Date added: 14 April 2007
Big Deal at Swindon Car Shop
There was a manic mix of motors and mayhem in Swindon this afternoon - thanks to Noel Edmonds.

The Deal or No Deal star was here to host 'Noel's Car Shop Party' at the UK's biggest indoor car showroom, which has just opened in Drake's Way.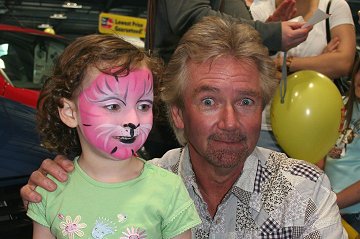 The wheel deal:
Noel Edmonds and Mr Blobby in a party
mood at the Swindon Car Shop

An action-packed day of family fun and frolics that also included the appearance of another TV favourite - Mr Blobby.

The former 'Crinkly Bottom Wobbler' there to entertain the crowds by taking on the Car Shop's own mascot, 'Baggy' in a special challenge sumo match.

A play fight Mr Blobby lost on a technical knockout!

Winners on the day, though, included Swindon resident Tony Prinzi who drove away in a £7,000 Vauxhall Corsa after winning a car price quiz hosted by Noel and fellow special guest, TV Driven's Mike Brewer.

A significant sum was also raised for the Children's Unit at the Great Western Hospital, the adopted charity of the Swindon Car Shop this year.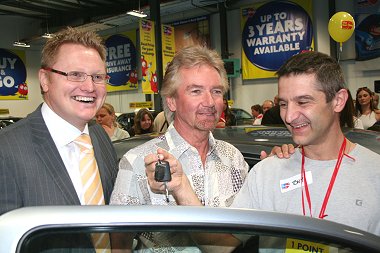 Thanks very much!:


prize winner Tony Prinzi gets the keys to his
Vauxhall Corsa with Noel Edmonds and Car Shop
Operations Manager James Hawley
"It been a hugely successful day," said Car Shop operations manager, James Hawley, "everyone seems to be having a great time as well as looking at the amazing stock of over one thousand cars we have here."

Car Shop Opening - 14/04/2007
Thanks, Noel!
Swindon woman wins £250,000 on Deal Or No Deal! - BUT WHAT WOULD YOU HAVE DONE?...

07 August 2012