Date added: 19 February 2007
Spoony mixes it up in Swindon
You're more likely to see him mixing it in the Brunel Rooms, rather than the Brunel Shopping Centre, but DJ Spoony still pulled in the crowds when he visited Swindon this Saturday.
The radio DJ entertained customers as they browsed around the new Western Computer store, who specialise in Apple Mac computers and products.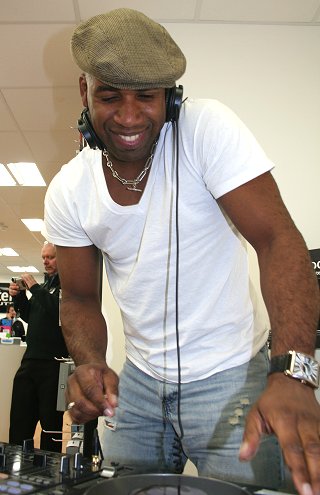 Brunel Beat:


DJ Spoony mixing tracks at the opening
of Western Computers in the

As ever, we welcomed Spoony to Town with the presentation of one of our SwindonWeb Magic Roundabout t-shirts - which brought a wry smile from the BBC Radio 5 Live presenter.

"Thanks very much," he said, "I've been over it millions of times when coming here to do a set at the Brunel Rooms, so I know it well.
"You can definitely say I've survived it!"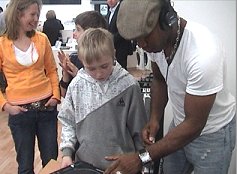 ON THE DECKS!

DJ Spoony in Swindon

Spending over two hours at the store, Spoony's set included a number of club classics and special re-mixes - as well as teaching two young Swindon lads some DJ'ing skills.

"He's brilliant," said one of them, "we heard the music and just came into the shop.

"I'm sure my mates won't believe me when I tell them that I've just been DJ'ing with Spoony in the Brunel Centre!"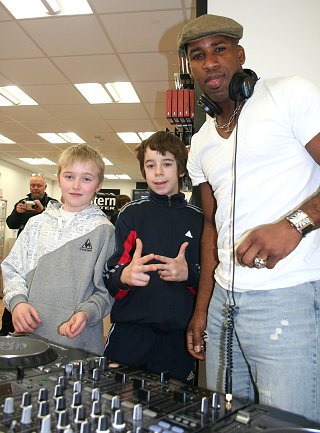 Mixing masterclass

:
DJ Spoony with two young Swindon DJs
The first store in Swindon to specialise in Apple Mac products, Western Computers also have outlets in Cheltenham and Bristol.
"We give people the opportunity to see and try out our range of Apple products before they buy," said store manager, James Collard, "and we're delighted to bring the Apple experience here to Swindon."

DJ Spoony mixes it up in Swindon - 19/02/2007