Markets in Swindon
A taste of the country - or a spot of car booty?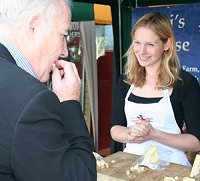 Good enough for Rick Stein!
One of the great advantages of living in Swindon is the expanse of idyllic countryside that surrounds us.
With all the local communities growing, rearing and processing local produce, the town is ideal for experiencing the distinct and special identity that a market provides.
And now the opportunity to sample all that has been bred, caught, pickled, brewed and baked has never been better.
So if a real flavour for the countryside and a chance to buy locally-sourced, fresh produce is what you are after, then look no further than SwindonWeb - we have all the information you need.
St Aldhelms Hall
Edgeware Road
Swindon
Time:
Every Friday from 9.00am - 12:00
---
Wanborough Farmers' Market
Wanborough Village Hall
Wanborough
Tel:
01793 790438
Time:
Third Saturday of each month from 09.00am - 12.00pm
---
Swindon's Sunday Farmers' Market
Swindon Designer Outlet Village
Kemble Drive
Swindon
Time:
Every Sunday from 10.00am - 4.00pm
---
Wootton Bassett Farmers' Market
Wootton Bassett High Street
Wootton Bassett
Time:

Every 4th Saturday of the Month from 9.00am - 1.30pm
---
Highworth Market Square
Highworth
Time:

Every Saturday from 8.00am - 2.30pm
---
Abbey Stadium
Blunsdon
Swindon
Time:
Every Wednesday, Saturday & Sundays from 9.00am - 3.00pm
---
Godwin Court
Old Town
Swindon
Time:
Last Friday of every month from 9.00am - 1.30pm
---
The Hand Made Crafts Market
The Post Modern
Theatre Square
Swindon
Time:
First Saturday of every month from 10.00am - 4.00pm
---
Wood Street
Old Town
Swindon
Swindon Karting
Wroughton Airfield
Swindon
Time:
Every Sunday from 9am
Abbey Stadium
Blunsdon
Swindon
Time:
Every Sunday from 7.00am - 2.00pm
---
West Swindon
Time:
Every Sunday from 1.00pm - 4.00pm
---

Click here for a full list of markets and car boots on SwindonEvent

Hunt The Sausage!
VIDEO: It's British Sausage Week. And in Swindon we make the best bangers in the country - official! We even had a go ourselves!....

Wood Street Market
Arts, crafts and local food all on offer in Old Town - 1st & 3rd SUNDAY

Coleshill Food Festival 2011
Organic open day with a variety of organic food producers, stalls and demonstrations - SATURDAY 10 SEPTEMBER...

22 August 2011

Yard Sale
An Old Town first - 10 streets taking part - THIS SATURDAY...

19 June 2010