Date added: 06 October 2008
Roseby's Greenbridge still open
Retail park store avoids the cuts, but town centre closes down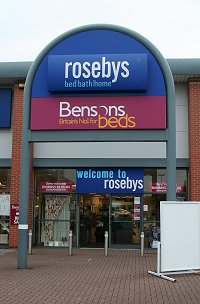 Roseby's store in Greenbridge
Roseby's, the soft furnishing company, have closed one of their two Swindon stores.
Staff at their Canal Walk outlet were told this weekend that they were being made redundant. The company's Greenbridge store is remaining open, and was trading today.
Roseby's went into administration last week, citing tough economic conditions as the reason.