Date added: 11 September 2008
World's Biggest Coffee Morning this Friday!
Macmillan event to re-write history of coffee in Swindon
Coffee shops and restaurants at The Brunel are aiming to raise money for a popular cancer charity next Friday - and set the record straight about Swindon coffee at the same time.

Of all people, it was Isambard Kingdom Brunel who, in a famous letter of 1852, lambasted the quality of refreshments in Swindon.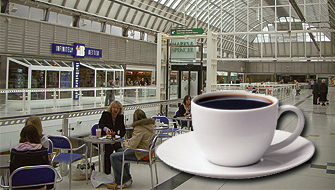 Coffee, coffee, and more coffee!:
Get down to the Brunel Centre
on
Friday 26 September to raise money for Macmillan
Now the subject is back on the menu for the World's Biggest Coffee Morning, an annual national fundraising event organised by Macmillian Cancer Support.
Nick Beaumont-Jones, manager of The Brunel, said: "When we sat down to work out how we were going to support the World's Biggest Coffee Morning, somebody pointed out that Isambard Kingdom Brunel had a thing about coffee in Swindon.
"He wrote to the proprietor of the refreshment rooms at Swindon Station to complain about the quality, and refused to buy coffee there.
"It's great that our traders are taking part in the event when the man after whom the centre is named had such strong feelings about coffee."

Shoppers will be able to support the coffee morning by buying drinks at various cafes and restaurants in the Brunel Centre on the morning of Friday, September 26.
Traders will be raising money by accepting donations or donating a portion of their takings to the fund.