Date added: 01 September 2008
Swindon Half-Marathon: Get Run-ning!
Put you feet first with the right pair of trainers
Over 1,500 runners don their trainers and take part in the Swindon Half-Marathon every year.
And many of them will have been fitted for their essential piece of kit at The Run store in Old Town.
Run's manager, Liam Dixon, is an expert in all things feet - and can tell you exactly which shoes are best for you.
Using the latest technology in video gait analysis, Liam can monitor your running technique while you try out his specialist trainers - and you are guaranteed to find the perfect match.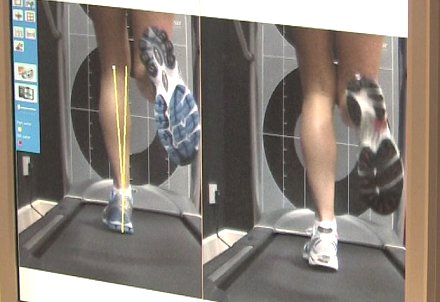 Liam can show you the exact angles of your legs and feet as
you run - working out which trainers would best suit your needs
Trust me - within seconds you'll know you're in the right trainers!
Liam's shop in Godwin Court, Old Town, is a haven for any keen runner, so pay him a visit and make sure you've got the right running shoes on before you even think about stepping foot on the start line this October.
See the link below for more details.