Date added: 30 July 2008
Swindon betting shop hits the bullseye
Darts legend Peter Manley takes on customers at BetFred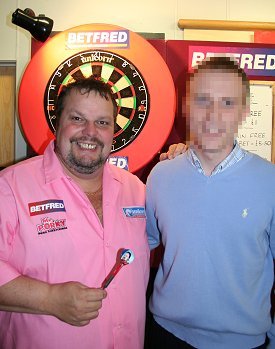 Peter Manley (l)
at BetFred
in Devizes Road, Old Town
It was 'on the oche' for betting shop punters in Old Town today, as darts legend Peter Manley paid a visit.
The former world number one was at the BetFred shop in Devizes Road to stake his 'One Dart' reputation by challenging customers to throw against him - and win a free bet.
"I can only throw three darts, and then they can choose to try and beat me with three darts or six," said the 44-year-old professional.
"And they should beat me with six!"
One who didn't, but still enjoyed the experience, being a challenger who missed the board completely when needing 11 or more with his last dart to beat the former PDC world finalist, who scored 100.
"I got nervous. It's more difficult than it sounds!" he said.
Fancy yourself on the oche?
Those wanting to take on the mighty Manley can do so tomorrow [Thursday 31 July] when he will take on the same challenge at the BetFred shop in Bridge Street.
Old Town
Our guide to the oldest part of Swindon...

Nice one, Bob!
Remembering the first time an Anderson won the World Darts title - and he came from Swindon! - WATCH VIDEO...