Date added: 25 June 2008
Paddington Bear in Swindon
Children's favourite celebrates half-century at the Brunel Centre
Dressed in his familiar duffel coat and battered old hat, and not looking at all his 50 years, the nation's favourite bear Paddington, dropped in to Swindon today to celebrate his half-century.
Paddington, who has a new book out to mark his 50th – called Paddington Here and Now – strolled among shoppers in The Brunel.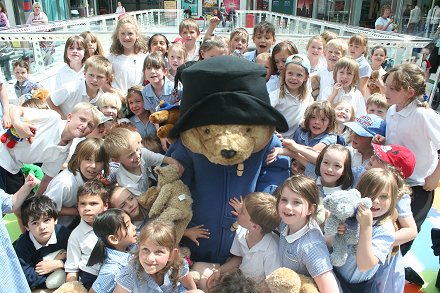 pupils from Lethbridge Primary School say Happy Birthday
to Paddington Bear at the Brunel Centre
The event was arranged by The Brunel to mark National Bring Your Bear week as well as celebrate Paddington's 50th.
He was given a rousing chorus of Happy Birthday by children from Drove Primary School, who had gone along to meet him and listen to story-telling from Swindon poet Tony Hillier.
Also meeting him were children from St Catherine's and Lethbridge schools.
"We were delighted to have such a distinguished guest," said Brunel director Nick Beaumont-Jones.
"Although he comes from Darkest Peru he has lived in this country for years now with The Brown family, and he seemed very at home with the children and the shoppers who he greeted."

Paddington Bear's 50th Birthday - 25/06/2008