Date added: 02 May 2008
Big birthday for Swindon jeweller
Iles celebrate 38 years in town centre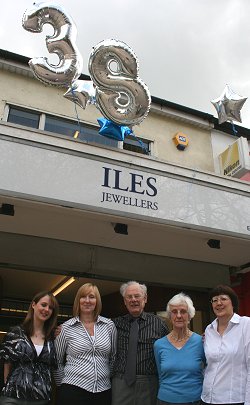 Standing the test of time:
Stanley (centre) and staff
Iles Jewellers have come a long way since the first day they opened on 02 May 1970.
"I took £5 and my first ever customer bought a pair of earrings if I remember rightly," owner Stanley Iles, who runs the company alongside son Steven, told us today.
"It's hard to believe it's our 38th birthday. The time, quite literally, has flown by."
Time that has also seen a number of changes in Swindon town centre - none bigger than the launch today of the new BBC big screen in the redeveloped Wharf Green, just outside the Iles shop in Market Street.
"It'll certainly bring more shoppers to this part of the town," Stanley added, "so it's an ideal present for us today."
Iles, who are recognised as one of the leading independent jewellers in Wiltshire, are celebrating both occasions by offering a number of special discounts this weekend plus free gem testing and jewellery valuations.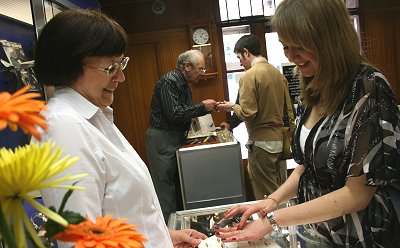 A new website - also launched today - provides full information on the services they offer plus more details on their quality range of gents and ladies watches.
The big screen will be officially switched on at a special opening at 6.45pm.