Date added: 02 April 2008
Post Office closure
Cheney Manor officially loses a part of its community
Mohammed Choudhary talking
After weeks of protests, the post office on Cheney Manor Road officially closed today.
Auditors arrived just after midday to formalise a day which branch postmaster Mohammed Choudhary had been dreading.
"I can't express my disappointment," Mr Choudhary told us, echoing comments supported by scores of local residents.
"Everyone I've spoken to is against the closure of this post office. And I can't quite believe this day has come."
The Cheney Manor post office is one of many now being closed in Swindon, including branches in Westcott Place, Lydiard Millicent and The Lawns.
The post office have not ruled out the closure of other branches, depending on economic conditions.
Local residents will now be forced to use the post office next door to the Rodbourne Arms, three-quarters of a mile from Mr. Choudhary's former store.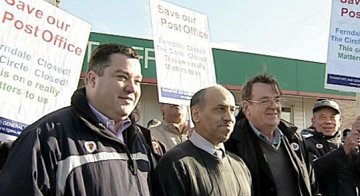 supporters of the Cheney Manor Road
post office
protesting against its closure earlier this year
"It's too far for me", said one protester, who used the post office every day.
"And to add insult to injury, our local MP Michael Wills supported the closure, despite making noises to the contrary.
"It's a sad day for Cheney Manor in my opinion."
Postal Strike
YOUR SAY: we ask the people of Swindon what they think + plus the strikers themselves...

Royal Mail relocation
Bosses reveal why Swindon was their choice for £20 million investment...

18 July 2008

Putting a stamp on Swindon
Cheney Manor residents take action against Post Office closure, while new Post Office all set to open at WHSmith...