Date added: 07 April 2008
Help for Heroes
Charity event helps raise money for war heroes
Shoppers at the Brunel centre raised almost £2,400 for a national charity on Saturday, through donations and merchandise sales.
The Wiltshire-based organisation, Help for Heroes, was set up to support servicemen and women wounded in conflict in Afghanistan and Iraq.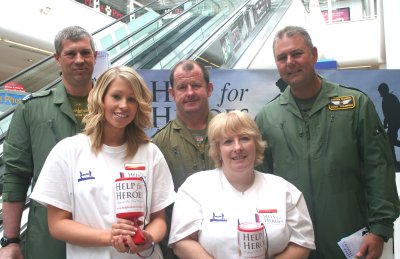 (back row l-r): Jim Hunter,
Geordie Clarke,
Woody Woodbridge
(front row l-r): Kerry Hunter, Rosie Dance
Help for Heroes has received recognition from high-profile supporters including Jeremy Clarkson and David Beckham - even hitting the headlines after Prince Harry pledged his support on return from Afghanistan.
And this weekend, staff from the Brunel centre worked alongside volunteers to help promote the cause.
Centre Director, Nick Beaumont-Jones, said: "My colleagues and I feel that if we can give up some time so that Help for Heroes can raise valuable funds in the town, it's the least we can do.
"I hope this will be the first of many fundraising days in Swindon, and I know we can count on our customers to be as generous as ever."