The must-have item - Magic Roundabout T-shirt!
It's what we're famous for!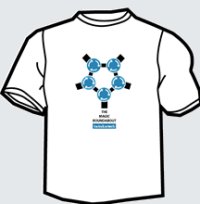 The must have item
of the summer:
SwindonWeb's very own t-shirt
You've seen it....

You've driven it....

Now get the T-shirt!
The official 'I survived the Magic Roundabout T-shirt'.
It may not be available in the boldest colours ever - white, grey and blue - but you can't go wrong with one of our Magic Roundabout t-shirts.
Let's face it, if it's good enough for the likes of Tito and Jermaine Jackson, Natasha Bedingfield, Simon Webbe, DJ Spoony and even Boris Johnson, surely you'll want one too!
Made from the finest cotton, and available in four different sizes, you can buy one via the link below.
Top tips for hair and beauty
It's no good wearing the latest fashion items if you're not sporting an up-to-date hairstyle and looking your best...

Where to shop
A full list of all the best places to find the latest fashions in Swindon...