Date added: 25 April 2008
Business is booming!
New Homebase store at Greenbridge a roaring success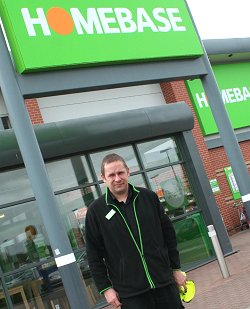 Homebase manager Rob Gill
Home and garden retail giant Homebase have moved in to Greenbridge Retail Park, replacing the old Focus DIY store.
Offering more than 18,000 DIY, decorating, home and garden products, it's already been a real hit with homeowners and gardeners since it opened earlier this month.
Dozens of locals turned out to see the launch of the new outlet, including Marie Curie nurses - as part of a campaign to involve the store in community interests.
Store manager Rob Gill said: "We were absolutely delighted to be able to have the local Marie Curie nurses with us to celebrate our opening, and we're really passionate about helping in the community.
"The store is doing fantastically well. We've already smashed our initial targets, and with great offers coming up I'm expecting a lot more to come."