Date added: 28 April 2008
Comet store goes up in the world
Grand re-opening in Swindon for electrial retailer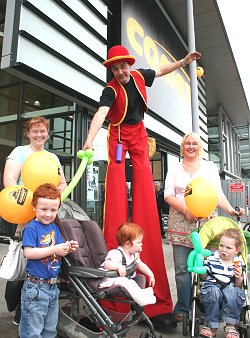 shoppers enjoying the day at
the new Comet store in Swindon
There was much more on offer than TVs, hi-fis and fridge-freezers at the Comet store in Swindon this weekend.
To celebrate the re-opening of their new two-storey 15,000 sq ft outlet at the Orbital shopping park, the electrical retailing giant provided entertainment including stilt walkers, clowns and face painting - as well as a number of special promotions.
"I'm very proud of the new store and all the team here," said store manager John Salisbury.

"We've had a great day and I'm delighted so many customers have made an effort to come here today. We've had nothing but praise for the new layout and the range of electrical goods on sale."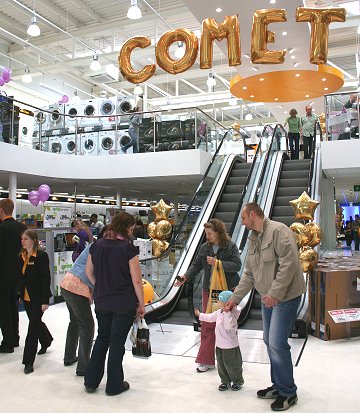 mezzanine
floor at Comet Swindon
Shoppers can also expect another grand opening in the coming months, with a brand new Marks & Spencer megastore opening next door to Comet.