Date added: 14 January 2008
Putting a stamp on Swindon
STORY UPDATE:
14th March 2008
New Post Office opens in WHSmith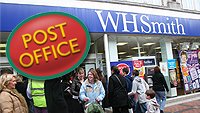 Putting a stamp on Swindon:
Post Office opens in WHSmith
Swindon's central Post Office store opened yesterday - in a brand new location within the town centre's WHSmith store.
After months of controversy, and planned closures at a number of smaller outlets across the town, the new Post Office on Regent Street has been met with mixed views.
With questions being posed about staffing, and whether busy times like Christmas will push the limits of both the Post Office and WHSmith, management have promised the partnership will benefit the town.
STORY UPDATE:
22nd February 2008
Four Swindon Post Offices to close in April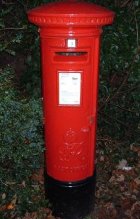 Swindon residents are today fuming after the confirmation that four Post Offices will be closed as soon as April.

Closure of the branches in Westcott Place, Lydiard Millicent, Lawns and Cheney Manor will make access to basic amenities much more difficult for many people across the town.

We covered the story of Mohammed Choudhary, postmaster and shopkeeper in Cheney Manor during a petition back in January - and today brought him the news he had been dreading.

He said: "I've invested so much of my own time and money in to this Post Office, and now I am left with nothing.

"I am being forced to sell my shop, because without the Post Office there is no point in staying open."

ORIGINAL STORY: 14th January 2008


Threat of post office closure drives protesters

The proposed closure Cheney Manor post office drove dozens of local residents to protest on Saturday morning.


With doom day looming for many post offices across the town, this latest proposal has angered residents – particularly elderly people who would be forced to travel to Rodbourne Cheney.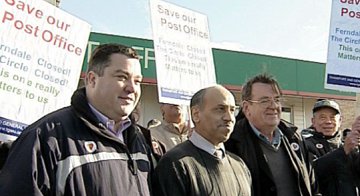 postmaster Mohammed Choudhary
and
Cllr. Des Moffat join protestors in Cheney Manor

Postmaster Mohammed Choudhary told us: "My family have invested over £100,000 in to developing this post office because we want to stay.

"We've brought in air conditioning, we've offered to have a cash machine in the wall, and I've even offered to put in three windows, but they're not listening."

Cllr. Des Moffat, said: "The establishment need to look at this again, I think they're making a big mistake.

"Mr Choudhary has made a huge effort to improve this post office, and now it's starting to make money the Post Office need to reconsider the threat of closure."
Postal Strike
YOUR SAY: we ask the people of Swindon what they think + plus the strikers themselves...

Royal Mail relocation
Bosses reveal why Swindon was their choice for £20 million investment...

18 July 2008