Date added: 10 March 2008
National Butchers' Week 2008
We take a look at the best rumps in town!
They're a national institution, the high street butcher.
Those cheeky chaps behind the counter talking pork loins, bangers and a good rump.
But according to recent statistics, they're in decline - with a reported 23 butchers closing every month.
All we know is, we've got three of the most successful butchers in the area right on our doorstep, and we think they all deserve a good mention during this, National Butchers' Week.
On Wootton Bassett High Street, Andy Crump and his team pride themselves on their high-quality British meat - from specially-selected three-week matured Scotch beef, to local Gloucester pork.
And don't forget their famous Bassett Banger!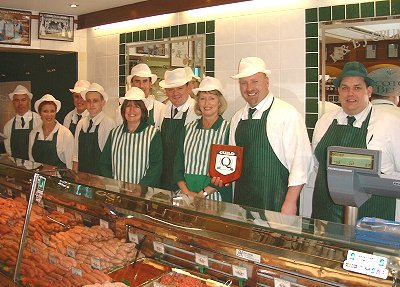 K & EJ Crump & Son - home of the Bassett Banger -
have won several prestigious awards for their
high-quality meat and service

K & EJ Crump & Son - website
They've get plenty of rabbit, this bunch - on both sides of the counter!
Established for over 25 years, this Havelock Street butcher offers a wide range of premium meat and poultry - including everyone's favourite, their big fat juicy Sunday joints.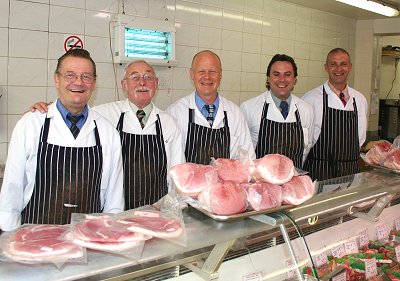 Mike McGuire's have been providing Swindon
with top-quality meat and poultry for over 25 years

Mike McGuire - website
You've only got to see the queue outside this Highworth butcher on a Saturday morning, to know how popular they are.
And judging by the picture below, they're not scared to show a rump or two!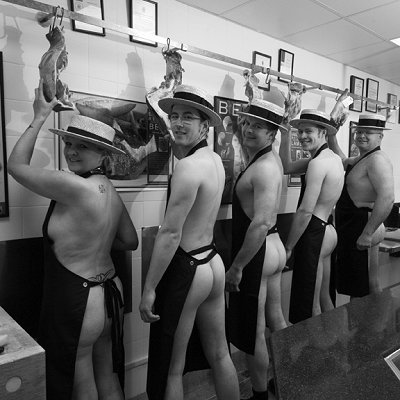 butchers at Andrews Meats who stripped off for the
Highworth 2007 calendar, which raised over
£8,000 for Macmillan Cancer Support
So support your local butcher, that's what we say.
You certainly won't get a sight like that down at your local supermarket!