Date added: 22 February 2008
Look who's shopping in Swindon!
They're an eagle-eyed bunch, the Swindon town centre Street Team.
So when they saw a scruffy, unkept figure walking down Canal Walk, they were more surprised than anyone that it wasn't someone to 'move on' - but music star Pete Doherty!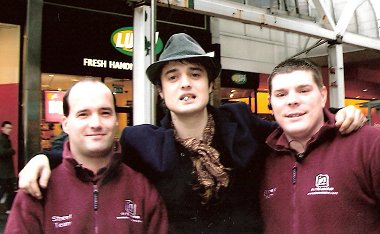 Pete Doherty in Swindon town centre today
The Babyshambles singer - and ex of top model Kate Moss - was in town to take in a spot of shopping.
The Lush store in the Brunel Centre, turning out to be Mr Doherty's favourite, judging by the bags bulging with scented soaps and cosmetics.
"He's a pretty unmistakable face, to be honest," said a lead member of the team, who are responsible for making the town centre a safe place to shop.
"So we thought it must be a look-a-like."
"But when we asked him for a picture, he was delighted to oblige."
Doherty, who is familiar with the area after spending a lot of time at Kate Moss' house just outside Lechlade, now has a home in Marlborough.
He was reportedly last seen in Swindon buying a chinese takeaway from the New Bamboo Garden in Highworth.
Pop central at GWH
Babyshambles star the latest to be rushed to hospital in Swindon...

24 November 2009