Date added: 27 February 2008
He ain't nothing but a Hound dog!
Co-op's Healthy Hound shows Swindon kids how to keep fit
The 'Healthy Hound' paid a visit to St. Francis Primary School in Taw Hill yesterday, to kick-start a new initiative promoting exercise as part of a healthy lifestyle.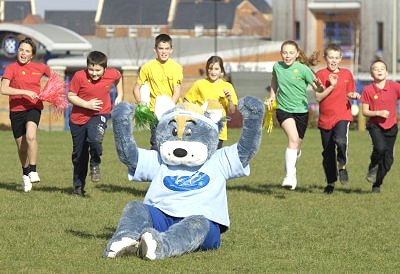 Healthy Hound shows Year 6 pupils from
St. Francis Primary School how keeping fit can be fun
The Midcounties Co-Operative, whose pharmacy business is responsible for the campaign, will be taking their seven-foot cuddly dog mascot to schools across the region.
Healthy Hound spent the day with kids of all ages, running keep-fit sessions including circus stunts, parachute games and mini-golf.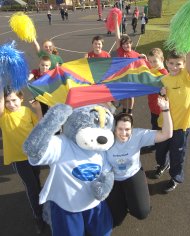 Craig Williamson, founder of the Healthy Hound initiative said: "Our goal is to encourage children to exercise through a series of fun and alternative keep-fit ideas and playground games."
And 10-year-old Jack Morse certainly agreed.
He told us: "It's really good because Healthy Hound can show us all the exercises which we can do at play times and after school."
The initiative was launched in the West Midlands in 2007, and has already involved 7,000 school children across 40 primary schools.
Anti-Bullying Week
Students tackle cyber-bullying for national campaign...

16 November 2009