Date added: 28 February 2008
Great Range on offer!
New home and garden centre opens in Swindon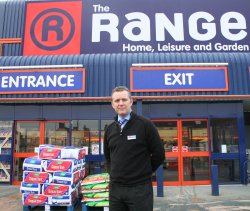 regional manager, Andy Harding
A huge new retail store has opened just five minutes walk from the town centre.
Offering thousands of items for the home and garden as well as a large restaurant area, The Range has already been hugely popular amongst locals.
Situated in the old B&Q building next to Halfords, the outlet has brought a big attraction to an area which has previously been a bit overlooked.
Chris Dawson, owner of The Range, said: "I'm not surprised that our store in Swindon has been such a great success.
"I believe it was a real team effort and the people of Swindon can finally shop at a store that is focused on providing customers with that dream home at a dream price!"

The Range - website