Date added: 22 January 2008
Revving up!
Swindon's biking scene gets a trendy new look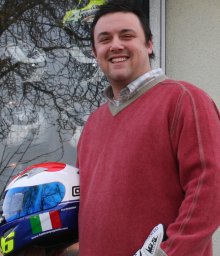 When we think of biker shops it's hard not to imagine a Hells Angel type stood behind a desk with a roll-up hanging from his mouth.

That was until we visited the new Motoshop UK store in Rodbourne, which opened last Monday.

Biking fanatic Warren Titcombe was just 15 years old when he took his first job as a mechanic, and his passion for all things motorbikes hasn't changed.

Having set up and run five shops he's not exactly new to the game, and his latest venture is the product of years of hard work and dedication to the industry.

Motoshop UK sells everything you need, from limited edition helmets to trendy leathers – and if they don't have what you want in store, they can find it for you.

One of the biggest attractions is a wide range of women's wear – and we're not talking big bulky leathers either, it's more fitted and trendy.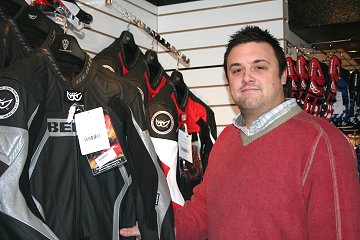 Warren Titcombe shows off a few of his wares

Warren told us: "There are so many women who actually ride motorbikes now, but people still think they're just the little woman perched on the back.

"There's a definite gap in the market and I think we've got the right stock to fill it."

He added: "The biking industry is a minefield. You need to know that you're buying something which fits and is suitable, and that's what I am aiming to give people."

Motoshop UK - website