Christmas Party Look 2011
How to feel fabulous this Christmas - LBD, Vintage and THE red hot look!
Just for a minute....
forget it all.
The stress of the kids' Christmas lists; finding the best turkey for the traditional roast; the over-the-top Christmas deco', and how to cope with all your relatives in one room.
Let's concentrate on more pressing matters, shall we - how to look your very best for the coming party season! Christmas is for celebrating - and with this feature, you'll be the one smiling.
No budget? No problem! We've found some stunning offers in and around Swindon you simply won't be able to resist!
This autumn it's all about the Vintage Look. And no - just in case you were worried - we aren't talking about the 1980s - power dressing, shoulder pads and all that. Nor the 70s - although we do love the current Glam Rock look that's in at the moment.
You'll have to go back further than that to the days when your mum or grandmother were born - the 1950s, 40s and even the most fabulous of decades, the 1920s! Perfect for the party season coming up!
Be beautiful in black... blue, gold...
Or any of the wonderful colours available at Peacocks - all suitably inspired with a vintage feel by Pearl Lowe.
With prices ranging from just £35 to £60 (and no, that's not a miss print!) it's no wonder the likes of Courtney Love, Natalie Imbruglia and Holly Willoughby have all been seen in a Peacock's party dress this year.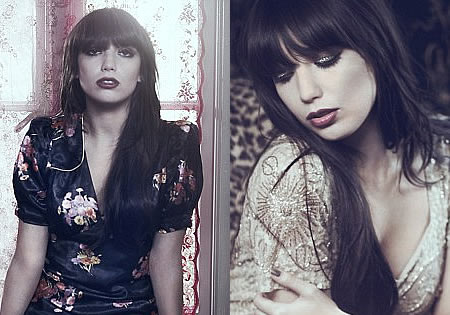 The Pearl Lowe at Peacocks Christmas Collection
Guaranteed to catch everyone's eye, turning up in a frock like this is sure to make you feel slightly celebrity at your Christmas bash (which we know everyone secretly wants)!
To add extra interest to your glamorous but classy look, incorporate a few flattering accessories! Necklaces, nails, shoes - but not too much.
It can be something simple, so don't overestimate how to make your look better - you don't want to deflect attention from the outfit you've secured you'll be so keen to show off!

An hour glamming-up your nails with a traditional red varnish and a canny investment in a pair of super-hot shoes will complete the look perfectly!
Going with an LBD - then show us those shoes!
The only problem with the Christmas party is the time of year. November and December aren't exactly ideal for bare legs and open toes!
But with an LBD you can easily make your feet glow, and with block colours like warm peaches or hot orange all the rage, then what are you waiting for?!
Stores like
New Look in Regent Street
have just got a fabulous new range of bargain heels in with just these colours - comfortable as well as fashionable, they couldn't be more perfect.
And even if you're not a fan of dresses, we think a peep-toe shoe with the cute bow looks great with an elegant suit or trousers.
And what's more, with prices starting at £30 to make your feet feel and look great, who cares if it's a one-off!
But.... for the hottest look this season it's time to be a scarlet woman!


The LBD is the staple party dress that every woman should have in her wardrobe.
But this year, well.... what can we say. We reckon it's time to spice things up a bit, maybe? And go for a hot party look that really sizzles.
Yes, ladies, it's time to paint the town red this Christmas - literally!
Ripe and ready to party!
Now when we say red, we don't just mean just Swindon Town red. Not all of us can carry that one off! We mean all the colours and tones inbetween as well.
Burgundies, clarets, ruby and rose are all great, rich reds to go for.
Just choose the shade you like best and marry it up with dark accessories - bingo!
Take the show-stopping party piece above right from Warehouse. The ruby red and the split upper fron and back is stunning.
For something slightly less 'shocking', we love the Coast Nella D dress currently available in
Debenhams in The Parade
(below left).
This lovely scarlet number will be a statement at any special occasion, with some intricate cutwork detail adding more than just the ordinary.
Team with an amazing pair of heels and you'll have nailed it!
The same goes for the Bow Mesh Dress we found at
Next in Regent Street
(above right) - a stunning colour and cut that, best of all, is available in all sizes - tall and petite.
Add a black shrug, which is also available, for when it gets chilly post-party, pewter shimmer platforms and a satin clutch bag and you've one-stop shopped it!
Last of the three is a colour block dress in a halter neck style at
BHS
(centre). Colour blocking has been the trend all year, so why change for Christmas?
The extra tie detail with a real feel of luxury about the fabric makes this a dress a real stand-out.
Shoes & Accessories
A trip to the shops for a new party and no new shoes or clutch bag? It just wouldn't be Christmas would it?!
As you can see from the 'Lady in Red' look, it pays to stay conservative on the colour unless you feel super-confident on the clashing front. We recommend letting your dress do the talking by opting for a black high heel and dark shades of with handbags.
Top left are a fantastic pair of peep-toe court shoes in imitation suede from
H&M in Regent Street
. With a heel at 8cm and rubber soles, they're dancing shoes as well. And..... get this - they're only £14.99!
Clutch bag-wise, we think this black super-soft faux fur clutch bag with textured faux red leather trim at Wallis is perfect. It's wipe clean as well just in case there's a spillage!
So to top off your look, you need a decent hair style! For events like the Christmas party, hair do's such as flirty, classic waves or a fun and fancy up-do are definitely your top two!

Thankfully, in Swindon we have a fantastic choice of top hair salons, all of which know exactly what's in and what suits.

So relax and put your feet up (or in this case, your hair) at one of these guaranteed-to-please salons for the glamorous party hair you want this Christmas!
The Vintage Look
Look bang up-to-date by stepping back in time this autumn and winter!...

Autumn & Winter Coats
It's most definitely getting chilly outside, ladies! So here's a few shopping ideas in Swindon town centre...

QUBA & Co
Nautical fashion designer opens at Swindon Designer Outlet...

04 June 2011

Racing into Spring!
Designer Outlet Horseback Fashion Show hails start of races fashion season...

06 April 2011

Par-fection!
Urban 18 autumn/winter men's fashion displayed at Longs Bar - SEE GALLERY...

26 September 2010

Mauve it!
It's a purple haze out there - but here's a few early season tips & hints for fashion followers shopping in Swindon town centre...

Spring trends 2010
What's hot in the shops? We ask advice from Val at Juvals...

07 April 2010