Date added: 27 November 2010
Like Father, Like Son!
New Willoby's furniture store in Old Town continues the family business
The old saying goes 'like father like son' - and this is exactly the case when it comes to the Bowness family.
Following in the footsteps of his father Michael, Will Bowness has proudly opened his first furniture store in Old Town Swindon - Willoby's in Wood Street, which is enjoying a real renaissance.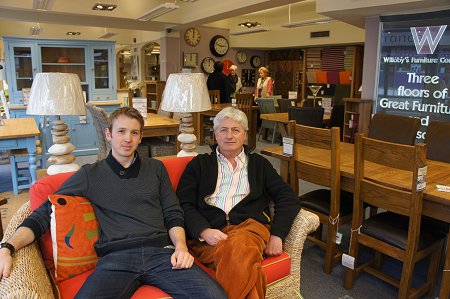 Will Bowness (l) and father Michael Bowness (r)
Michael has had businesses in the South West over the past 33 years starting in 1997 when he bought a small shop called Pine and Cane in Newport Street, Old Town.
Eventually Michael expanded the businesses into 11 larger stores across the south and south west – from Oxford to Newbury , Didcot, Cheltenham to Cirencester.
But today he is on-hand as father to Will, 25, whose idea was to open Willoby's, in the heart of Swindon's Old Town after successfully launching the Cane Barn in Ashton Keynes in 2009.
"I'm delighted to have opened the store," commented Will, "Willoby's is a furniture store specialising in quality oak, pine and painted wood furniture and it's fantastic to have dad here offering advice and helping out."
"I love challenges; as did my Mother and Father. And I love building things… and succeeding. We want Willoby's to be the best creative shop in the area."
For more information and to see a variety of products on offer visit the website via the link below...