Date added: 18 April 2010
On the hustings in Highworth
Local residents question general election candidates
The General Election debate heated up in Highworth tonight with a well-attended hustings session featuring candidates fighting for the North Swindon seat.
Labour's Victor Agarwal, Conservative Justin Tomlinson, Liberal Democrat Jane Lock, UKIP's Stephen Halden and the Green Party's Bill Hughes took questions from local residents on a raft of issues at the Highworth Methodist Church.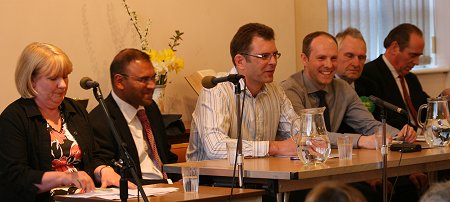 (from left) Jane Lock (Liberal Democrat), Victor Agarwal (Labour), Meeting Chairman, Justin Tomlinson (Conservative),
Bill Hughes (Green Party) and Stephen Halden (UKIP)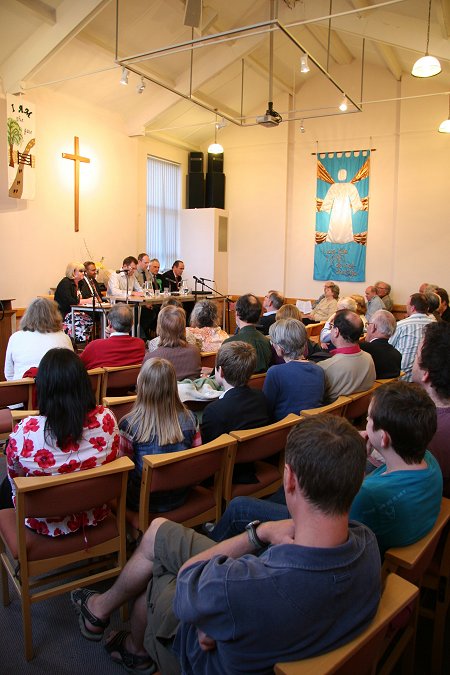 After the audience listened to each candidate make statements on more national issues, the meeting was eventually brought to life by eight-year-old Simon Exell, who asked the simple question:
"What has each of you done for Swindon?"
A request that initially brought the accusation of bias from by one Labour supporter, given the time spent by Justin Tomlinson as a local councillor compared to Victor Agarwal's only recent appointment as Labour candidate in January.
But what followed resulted in an hour of opinionated debate and cross-party arguments that eventually turned into a detailed discussion on Highworth residents' concerns on schooling, crime and especially the new swimming pool, which faces an uncertain future after recently running into financial difficulties.
The evening was eventually brought to a humourous end by the Green Party candidate Bill Hughes, who, when accused of being a socialist, was happy to declare "Up the revolution!" to much laughter and applause.
On the Hustings in Highworth - 18/04/2010
Swindon General Elections!
They say whichever party wins in Swindon, wins the general election - we look back on results since 1969...

Swindon Election 2015
Both Conservative MPs re-elected with increased majorities + ELECTION NIGHT LIVE

08 May 2015

Election Q&A
The Royal Oak Bishopstone hosts a Q&A with the party political candidates - 17 APRIL

No Time For Tapas
ONE MONTH TO GO: Miliband is back in Swindon - and this time it's at Los Gatos - SWTV GRAB A WORD

07 April 2015

Election Countdown
VIDEO: Harriet Harman's pink battle bus rolls in to town to support local Labour candidate's fight for Swindon children's centres - WATCH INTERVIEW

05 March 2015

Nick Clegg in Swindon
Deputy Prime Minister stops by to sign £129 million growth deal - WATCH VIDEO

18 December 2014

Cameron in Swindon
Conservative leader chooses Coate pub garden to launch 'grey manifesto'...

18 April 2010

Andrew Lansley
Conservative shadow secretary of state for health visits Maple Court in Swindon...

14 April 2010

Theresa Villiers
Shadow secretary of state for transport visits MAN in Swindon...

07 April 2010

Who is Michael Wills?
A simple question, we thought? Surely everyone knows he's our North Swindon Labour MP?....

Order! Order!
Commons telling off for Swindon MP Anne Snelgrove...

18 March 2009

The direct approach
Conservative leader David Cameron answers questions in Swindon - watch video...

10 July 2008

What a Vic-Tory!
Conservatives increase majority on Swindon Borough Council...

02 May 2008