Date added: 11 January 2013
Honda To Cut 800 Jobs
Downturn in EU downturn blamed for shock news today - but is it because the new Civic is (hate to say it) plain 'ugly'?
Eight hundred workers will lose their jobs at Honda in Swindon after a shock announcement this morning.
The car giant, who currently employ 3,500 associates at their South Marston factory, blamed the continuing European economic downturn for the reduction.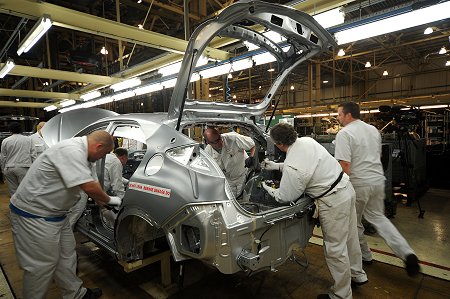 production is being reduced after poor sales in continental Europe especially France, Spain, Italy & Greece
Ken Keir, Executive Vice President of Honda Motor Europe, moved to reassure those fearing further cuts by confirming that "Swindon is still the cornerstone of our European production and will remain so despite this news today."
"We are setting the business constitution at the right level to ensure long term stability and security."
The company targeted Spring 2013 for the cuts and said it would hold discussions with current workers in an attempt to avoid compulsory redundancies.
Job losses are now also expected at the local firms that supply the Honda factory with key components. Seat manufacturer TS Tech, based in Highworth, layed off a number of employees when Honda ceased car production for 4 months in January 2009.
Launched just over a year ago in Swindon, the all-new 2012 Honda Civic had hoped to lead to a ressurgence in sales for Honda after what was a poor year in 2011 with a low of 97,000 cars produced.
Five hundred extra workers were taken on in high expectations for demand.
But mixed reviews on the styling haven't helped. Even Ken Keir admitted in April 2012 that "the new Civic is coming down the line now and has been received
reasonably
well across Europe."
The Civic launched in the US was so poorly received, urgent re-styling led an all-new 2013 model being launched as recently as November.
In the UK, the Civic, while being praised for its build quality, reliablity and petrol consumption, has been described as 'boring' and 'plain ugly' by some - especially in comparison with class rivals such as the VW Golf and Ford Focus.

Last year, a third of the 166,000 cars built in Swindon in 2012 were sold in the UK, with the rest exported to 26 countries, mainly in Europe.

In all Swindon produces the The Jazz, Civic and CR-V Honda models (with a new CR-V Wagon model due soon), and has an annual capacity of 250,000.
Honda have invested over £250 million in their Swindon factory in the last two years and launched their new CR-V model in 2011.
What do you think of the Civic?
Honda Shuts Down
BREAKING: Swindon car production suspended by Coronavirus until at least 06 April - or when 'market and supply conditions' allow....

18 March 2020

Honda Fire
Production resumes after weekend blaze...

25 January 2016

I Predict A R-iot
Kaiser Chiefs frontman Ricky Wilson in Swindon to collect new Honda Civic Type-R - SEE PICTURES

20 August 2015

Honda Task Force
We speak to project leader Jill Annal ahead of the job fair organised for redundant workers...

19 May 2014

Honda Take Stock
340 production workers at Swindon plant face job threat after shift change...

25 March 2014

From Honda to Aston Martin?
Car giants recruit redundant Swindon workers at job fair (with some following Di Canio to Sunderland!)...

29 April 2013

Honda Launches CR-V
Big boost for Swindon as Business Secretary praises car plant investment...

07 September 2012

Honda Jobs
Honda in Swindon is now recruiting - MORE DETAILS...

20 December 2011

Recovery Starts Here?
New Honda Civic rolls off the production line as 500 new jobs announced...

19 December 2011

Beat the recession
New College host open evening which offers advice on surviving the crunch...

09 March 2009

Asimo
Youngsters enjoy the power of robots at Swindon technology workshop...

Last Hurrah for Civic Type-R
This week saw the last of Honda's legendary and hugely successful Civic Type R's coming off the Swindon production line...

28 September 2005