Date added: 10 September 2013
The Day James Hunt Married A Very Nice Girl From Swindon
F1 star tied the knot in Marlborough in 1983
Thank you to the fantastic Calyx Archive for these pictures of former Formula One star James Hunt getting married 30 years ago.
His bride was Sarah Lomax from Baydon in Swindon and they tied the knot at the Registry Office in Marlborough on 17 December 1983.
And in true playboy style, Hunt's best-man even had to buy him a tie for the occasion just before the off from a nearby gentleman's outfitters!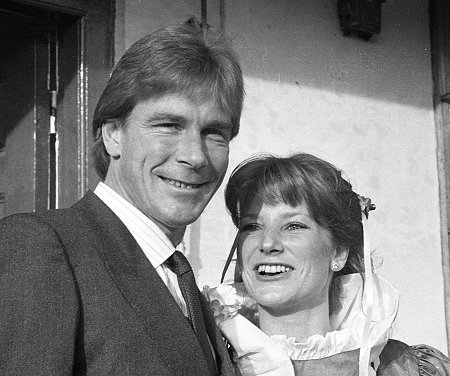 James Hunt marries Sarah Lomax in Marlborough
Quite a crowd turned out to see the couple enjoy their wedding day, seven years after Hunt was crowned F1 World Champion in 1976 after his legendary battle with Ferrari driver Niki Lauda, who he pipped to the title by one point in the final Grand Prix.
The incredible story of that motor racing season is about to be told in the much-anticapted film RUSH, in cinemas from Friday (see video below).
Sadly, James Hunt and Sarah Lomax divorced in 1989, with Hunt himself dying four years later of a heart attack at the age of just 45.
They had two sons, Tom & Freddie.
James Hunt Marries Sarah Lomax
Marlborough
17 December 1983
The Story of James Hunt v Niki Lauda in 1976
Formula One's Last True Playboy
Forthright opinion on the BBC with Murray Walker!
It's The Eboladome!
And it's in Swindon! New Grand Tour test track gets the Clarkson treatment...

21 November 2016

Hello Jenson?
Is the F1 champ heading for Swindon? (well, there's no speed cameras) ...

21 November 2009

Bye bye Button
No more F1 thrills and spills in Swindon, then eh?...

05 December 2008