Date added: 03 February 2015
Swindon Armed Forces Day
Early details announced for this year's celebration of our nation's armed forces...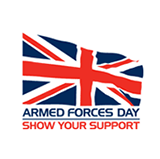 Swindon Armed Forces
Swindon Armed Forces Day will take place on Saturday 27 June, with a number of activities and entertainment promised in the town's Faringdon Road Park.
Taking place from 11.00am, the day will be supporting five military charities including The Royal British Legion, Blind Veterans UK and Combat Stress.
David Bell, Chairman of the new Organising Committee says, "We intend this event to be successful in raising awareness of the Armed Forces and to reach into and involve the community in the widest sense of the word".
Chris Leggett, Secretary of the Committee, is also the Fundraising and Awareness member of the Swindon Borough Division of SSAFA and says, "I was so disappointed that last year's event didn't really fulfil its aims and so I readily agreed to join the new team. It's a great opportunity for members of the Armed Forces, Military Charities and the Community to work together and promote each other".
Further details on Swindon Armed Forces Day will follow in the coming weeks.
If you'd like to get involved with Swindon Armed Forces Day 2015, please contact Chris Leggett on 07754 517971 for further details.
Journey's End
The award-winning WW1 play at the Swindon Arts Centre - 23 SEPTEMBER

It's Swindon, Ma'am!
QUEEN ELIZABETH II: In her amazing 70 years on the throne, here's the 4 occasions Her Majesty officially stopped off in Swindon...

Festival of Remembrance
The annual concert organised by Swindon Royal British Legion to remember all those who have fought for their country - 02 NOVEMBER

Swindon Wartime Weekend
Step back in time to the Second World War at the Swindon & Cricklade Railway - 13 & 14 SEPT

Bravery Recognised
Proud evening as Swindon soldiers are awarded Operational Service Medals for Afganistan Tour - WATCH VIDEO

12 March 2014

Field of Remembrance
Lydiard Park hosts the Royal British Legion's tribute to our brave Serviceman & women - 08-17 NOV

Radnor Street Remembrance
Swindon honours its war graves at much-neglected cemetry - GALLERY + PICS FROM OTHER REMEMBRANCE DAY CEREMONIES

11 November 2012

Strictly Poppies
Come Dancing stars perform at the opening of Remembrance Field at Lydiard Park - GALLERY

09 November 2012

On The March!
Royal Yeomanry Freedom Parade marks El Alamein anniversary & signing of Swindon Community Covenant - GALLERY

21 October 2012

Proud To Serve
Swindon TA receive Diamond Jubilee medals for 5 years service - WATCH VIDEO + SEE GALLERY

19 July 2012

Final Ride of Respect
Thousands of bikes turn out for last Mother's Day parade through Royal Wootton Bassett - GALLERY...

Singing For Heroes
150 School children perform a repertoire of songs on Remembrance Day, raising money for Help for Heroes - 11 NOV...

24 September 2011

Wootton Bassett Rocks!
Local people unite to make charity single & video for military charities - GET INVOLVED - VIDEO FILMING THIS SUNDAY...

15 September 2011

Everyone A Hero
ARCHIVE: Wootton Bassett honours Lieutenant Daniel John Clack - the final repatriation...

18 August 2011

The Final Repat?
Emotional farewell in Wootton Bassett for Marine James Wright...

11 August 2011

Armed Forces Day 2011
Military parade, veteran's badge ceremony plus a full day of family entertainment - SEE OUR VIDEO AND GALLERY...

The Last Parade
Blue skies and sunshine as RAF Lyneham bid farewell to Swindon - SWTV...

Ride of Respect
10,000 bikers ride through Wootton Bassett to show appreciation for fallen soldiers...

04 April 2011

A Mother Mourns
Emotional repatriation at Royal Wootton Bassett...

30 March 2011

Royal Tribute
Prince Harry opens Remembrance Field at Lydiard Park...

09 November 2010

Swindon Bombing
70 years ago - 20 OCT 1940 - the day the Luftwaffe tragically started targeting Swindon...

Last flight in
Repat flight arrives as ash cloud reaches Swindon at 6:00pm...

15 April 2010

Family pays tribute
A widow and her two sons take their place among the crowds at Wootton Bassett...

Heroes' Send Off
Pictures from the Shrivenham Defence Academy repatriation tribute...

10 November 2009

Welcomed home by many
Second repatriation of the week takes place through Wootton Bassett...

01 October 2009

Barrow Boys
Pictures from the Highworth Pram race in aid of Help for Heroes...

22 August 2009

Home to tears
Second repatriation of the week passes through Wootton Bassett...

30 July 2009

Last road home
Hundreds line the streets to honour the latest fallen soldiers...

28 July 2009

Pride and sorrow
Wootton Bassett a standstill for Lt Colonel Rupert Thornloe and Trooper Joshua Hammond...

Moving tribute
The 150th repatriation passes through Wootton Bassett...

23 March 2009

TA' very much
Swindon TA centre welcomes new tanks for training...

Another sad day
Wootton Bassett pays tribute to latest Afgan casualties...

01 December 2008

Their Proudest day
Armed Forces say 'Thank You' to the people of Wootton Bassett...

12 October 2008

Chiseldon Camp
50 years on since the last soldiers left, we look back at the Swindon army base which helped win two world wars - and welcomed the first American GIs to Britain...

A day to remember
Services held across the town for Remembrance Sunday...

12 November 2007

Life's Real Heroes
100 YEAR ANNIVERSARY: We pay tribute to Swindon's heroes of the Somme + EVENTS

The Railway Works
Celebrating Swindon175. A short introduction to the world's finest railway works. Founded this week in 1841....

VE Day in Swindon
The greatest e-VE-r party. How Swindon celebrated the end of WW2 in Europe #VEDAY75