Date added: 19 August 2015
Swindon's Tribute To The Few
Royalty to be guest of honour at special Swindon Battle of Britain flypast on 15 September
Tomorrow, 20 August, marks 75 years since Winston Churchill took to his feet in the House of Commons and delivered one of his most famous speeches.
"Never in the field of human conflict was so much owed by so many to so few."
... were the immortal words in which he paid tribute to RAF Fighter Command during the bloodiest days of the Battle of Britain, 18, 19 & 20 August 1940.
And on September 15, Swindon will pay its own unique tribute to former Swindon pilot Harold Starr, one of 'The Few', and who sadly died in the battle.
Swindon Heritage today announced that HRH The Duke of Gloucester will be guest of honour at 'Swindon Remembers', a commemoration marking the 75th Anniversary of the Battle of Britain.
The ceremony, on Battle of Britain Day (September 15) will take place at the Commonwealth War Graves cemetery in Radnor Street, in front of a specially invited audience, including the Mayor of Swindon, Cllr Andrew Bennett, and other civic leaders.
Flypast tribute to Swindon hero
It will be a tribute to Swindon's own Battle of Britain hero, Squadron Leader Harold Starr, and 'The Few' who fought in this vital battle in the skies over southern England during the summer of 1940.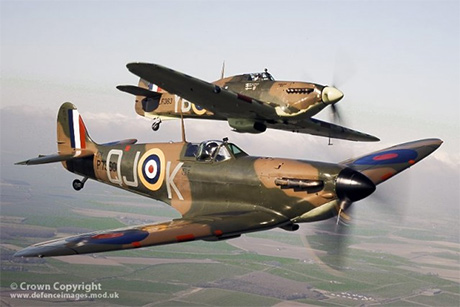 Spitfires and Hurricanes will be flying over Swindon town centre on Battle of Britain day, 15 September
The Duke, who holds the rank of Honorary Air Marshal of the Royal Air Force, will meet surviving members of Harold's family, including 93-year-old Peter Starr Mills, who is travelling from his Dorset home, and who last visited the central Swindon cemetery for Harold's funeral on September 6, 1940.
Battle of Britain Memorial Flight - 15 September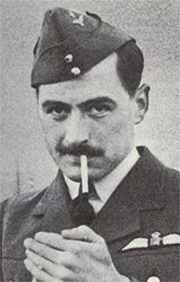 Buried in Swindon:
A spectacular flypast directly over Harold's grave by Spitfires and Hurricanes of the Battle of Britain Memorial Flight in honour of the 544 pilots of RAF Fighter Command, who were killed in the battle, including Harold Starr, will close the ceremony.
Later, His Royal Highness will attend Swindon Station to name a First Great Western Class 43 locomotive SQN LDR HAROLD STARR a fitting memorial that will be seen by thousands of people as it travels along the Great Western Main Line.
Making the announcement at the Spitfire Café in South Marston, on the very site where Spitfires were made, Swindon Heritage Project Manager Caroline Black said:
"We are thrilled and honoured that His Royal Highness will be attending the ceremony at Radnor Street on such a special date in our nation's history. It is important that we remember the sacrifices that were made then so that we can enjoy the freedom we have today, as the Battle of Britain Memorial Flight's motto states Lest We Forget.'
70 Years On
Crowds gather in Swindon to mark the 70th anniversary of VJ Day - SEE PICTURES

17 August 2015

Remembering One Of The Few
Swindon set to honour Squadron Leader Harold Starr with Battle of Britain 75th anniversary fly-past - SEE PICS

10 July 2015

D-DAY
79th ANNIVERSARY: Watch our films showing how Swindon played its part on the 6th June 1944 - WATCH VIDEOS