Date added: 15 March 2016
The Taste & Sound Of Swindon
Special Hooty brew launched as part of Swindon175 celebrations
A very special beer goes on sale today as part of the Swindon175 celebrations, 'Hooty' has been specially brewed and bottled by Swindon's oldest company, Arkell's Brewery.

Named after George French, the folk hero who would replicate the sound of the Railway Works hooters using a piece of pipe, 'Hooty' will be on sale exclusively at STEAM Museum and directly from Arkell's Brewery in Kingsdown.

'Arkell's have been absolutely fantastic in supporting our year of celebration and to have this beer ready for the first sounding of the Hooters on 22nd March couldn't have been better.' said Caroline Black, Project Manager for Swindon175.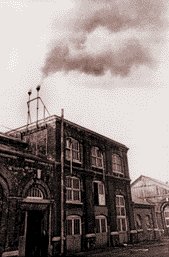 There she blows!:


the GWR Works hooter
blasted for the last time on
Alex Arkell, Head Brewer at Arkell's Brewery said: 'The Brewery grew with the railway works and the town, and we wanted to support the Swindon175 celebrations in the best way we can, through our famous ales.'
'Later this year we will also be brewing three special ales celebrating Swindon's railway heritage and which will be available throughout our pubs.' he continued.

An initial 1000 bottles have been produced, with more promised, and of course Hooty will be on sale on 26th March at STEAM, when the Hooters will sound at precisely 4.30pm, marking 30 years since the works closed.
We've teamed up with our good friends at Swindon175 and Arkell's Brewery to offer 1 lucky SwindonWeb reader the chance of winning a case of Hooty. Just answer the following simple question:
Q: In what year did the Swindon Works hooter last sound?
1. 2006
2. 1956
3. 1986
Brunel Curry Kings
Rodbourne restaurant hosts Swindon175 fundraiser for Brighter Futures...

05 October 2016

All Aboard!
Coate Water Railway expands with opening of new Richard Jefferies Halt station - SEE PICTURES

01 August 2016

Get My Drift?!
Mad Mike Whiddett takes on the Magic Roundabout like you've never seen it before - WATCH VIDEO

21 July 2016

Snapshot Swindon
The Brunel teams up with Swindon175 for young photographer competition...

30 Years On
Large crowd braves the rain to hear the Hooter sound again. Swindon Works closed 26 March 1986 - WATCH VIDEO

26 March 2016

History Uncovered
Final resting place of Sir Daniel Gooch's brother and sister-in-law rediscovered in Swindon...

16 March 2016