Date added: 24 June 2016
Swindon Votes OUT!
Town sets the national trend as BREXIT wins the referendum
Once again, Swindon was on the button when it came to setting the national trend as the UK woke up to an EU exit this morning.
The count at the Oasis leisure centre took centre stage on national media just before 1am, with Swindon one of the first towns to declare their vote.
A resounding NO from 54.7% to EU membership being the message from 112,965 who casted their opinion across the Borough.
54.7% (61,745) voted LEAVE
45.3% (51,220) voted REMAIN
112, 965 voted
75.8% turnout
Turnout overall in the UK was 73%.
Swindon votes to #Leave, 55% to 45%.https://t.co/K6pbNn362q #EURef https://t.co/72JdffiIis

— BBC Breaking News (@BBCBreaking) June 23, 2016
The Swindon result was mirrored across England with an overall of 53.2% voting to LEAVE, 46.8% to REMAIN.
The final result including Wales & Scotland, who voted overwhelming to stay in the EU, was LEAVE 51.9% and REMAIN 48.1%.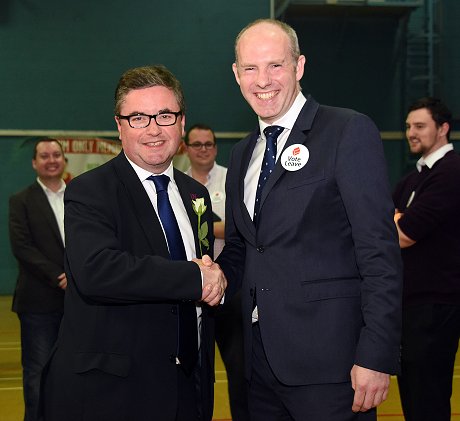 Robert Buckland MP for South Swindon (l) &
Justin Tomlinson MP for North Swindon
Justin Tomlinson MP for North Swindon supported the LEAVE campaign.
Robert Buckland MP for South Swindon supported the REMAIN campaign.
Both of whom reacted to the final result on social media.
Swindon voted to LEAVE the European Union. Hear reactions from @JTomlinsonMP and @RobertBuckland #EUref pic.twitter.com/cxHIHk3lSA

— BBC Wiltshire (@BBCWiltshire) June 24, 2016
.@JTomlinsonMP the best neighbour I could wish for #Swindon #workingtogether

— Robert Buckland MP (@RobertBuckland) June 23, 2016
And on the news that Prime Minister David Cameron had resigned after the BREXIT result.
Dignified to the very end - I am proud to have served our great PM. We all now have a duty to make this work & respect the decision

— Justin Tomlinson MP (@JTomlinsonMP) June 24, 2016
Do EU Fancy A Pint?
Pub outside polling station leaves voters with a tricky decision... IN or OUT?!

23 June 2016