Date added: 07 July 2016
Lets Get Ready To Rumble!
Heard the loud noise over Swindon this week? These guys are responsible!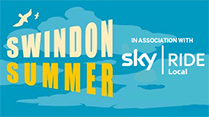 With the Air Tattoo 2016 taking place just down the road, it's been a busy - and noisy! - week so far in the skies above Swindon.
And there's been no more spectacular sight - and sound - than the arrival and aerobatics of the brand-new F-35B Lightning fighter jets, which first landed a few days ago.
The F-35 is the latest state-of-the-art stealth fighter jet - "the most advanced in the world" - and are due to enter service with the Royal Navy and the RAF from 2018.
F-35B jets can even land vertically - which by all accounts has already caused a few problems at nearby RAF Fairford when a descent caused rubbish and debris to be blown all over the runway, taking nearly two-hours to clear!
RIAT 2016 is unfortunately sold out this weekend, with only a few tickets for Friday 08 July available. See link below.