Date added: 19 September 2016
Finally.... Justice For Becky
BREAKING 10:50am: Halliwell given whole life term for Godden murder
- Halliwell given complete life order with no possibility of parole
- Senior Inspecting Officer sure they may be other victims
Christopher Halliwell, 52, will spend the rest of his life in jail without parole after being sentenced for the murder of Becky Godden.
The former Swindon taxi driver was already serving a life sentence for the killing of Sian O'Callaghan in 2011, but was found guilty on Tuesday of also abducting and murdering Miss Godden in 2003.
The police, however, did not rule out that Halliwell maybe responsible for other deaths (see story below).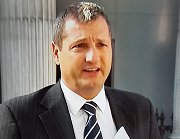 Speaking outside Bristol Crown Court, Senior Investigating Officer Det. Supt. Sean Memory said:
"From the sentence and remarks from the judge, what a horrible manipulative murderer Christopher Halliwell is.
"He's lied throughout the trial. He's tried to concoct a story. A version of events that were absolutely ridiculous. He's put Sian's family back through a tremendous ordeal, having said that he tried to help us but did everything but help us. And I'm sure he totally regrets that conversation he had with Steve Fulcher (former investigating officer) and made admission to both murders. And that's probably something that he'll live with for the rest of his life.
"From that day onwards he's done nothing but move away from the criminal justice system, manipulate us, the police, and he's got just reward today for all his endeavours in killing women.
"I'm also very clear there must be other victims out there. That they are sexual offences or other women that he's taken.
"The offending behaviour for killing Becky was cold, it was calculated. As the judge said, I cannot believe that was his first offence, from being a burglar in the 1980s to being a murderer in 2003. There was a significant gap in his offending behaviour."
"On top of that, Sian wasn't murdered until 2011, so what happened in the interim 8 years?"

"He talked candidly in 1985 about wanting to be a serial killer and I genuinely believe that is a distinct possibility. I will now look to review outstanding cases, and I will appeal to Christopher Halliwell again: 'Now's the time to tell the truth for once in your life. Come forward and speak to me'.
"There will be victims out there, I know, and I will now look to see where the investigation goes.
"But above all, this is finally justice for Becky's family. And for that I am delighted."
Halliwell found guilty of Godden murder five years after admitting it
- unanimous verdict by jury
- Halliwell already serving life sentence for previous murder
- branded a 'liar' by the Judge
- Police admit there may be more victims
The family of Becky Godden-Edwards spoke of 'some sort of closure' today after Christopher Halliwell was finally found guilty of her murder.
After two weeks of evidence at Bristol Crown Court, during which convicted killer Halliwell defended himself, a jury unanimously found the former Swindon taxi driver guilty of strangling missing Becky Godden, then 20, at sometime between 2003 & 2005.
Her body was only recovered when Police had arrested Halliwell for the murder of Sian O'Callaghan in 2011, and the 52-year-old admitted killing Godden as well before leading Police to her burial site.
Unfortunately, an error in investigating procedure prevented him being formally charged at the time and the case coming to court sooner.
But after the Police uncovered further, overwhelming, evidence
that Halliwell was responsible for Godden's death, he was re-arrested and cautioned in 2015 while in prison.

Both Miss O'Callaghan and Miss Godden disappeared from outside nightclubs in Swindon after getting into Halliwell's taxi.
During the trial, the former Covingham resident told the court that Becky had been killed by drug dealers and that he only knew of her grave's location in Eastleach after driving them there for a £700 fee.
But jurors dismissed this evidence and voted unanimously for a guilty verdict.
After the verdict was announced, Wiltshire Police's Senior Investigating Officer Det. Supt. Sean Memory said Halliwell could have more victims but was not currently linked to any unsolved cases.
"I am really open minded there may be others," he said, "there is an eight year gap between Becky and Sian.
"He's demonstrated at this trial his ability to lie, his ability to kill women who both in their own way were very vulnerable."

Halliwell will be sentenced on Friday, with a recommendation for complete incarceration in jail without parole most probable.
See links below for our coverage of the case including our in-depth analysis of the legal reasons why Halliwell initially went unpunished for murdering Becky Godden despite admitting it.
The Hunt Goes On
Police offer £25K reward as Sally Ann John case features on Crimewatch TONIGHT

20 March 2017

Still No Justice For Becky
UPDATE: Sarah Hill Wheeler discusses the new coroner's verdict into how Becky Godden-Edwards died and why she still hasn't received justice...

24 April 2013

SIAN O'CALLAGAN - LATEST
Halliwell is jailed for life for Sian's murder but Police error leaves no justice for Godden family...

19 October 2012