Date added: 04 January 2017
Swindon Slimmers A Shining Example!
Silver award for weight-loss expert after Wroughton group shed over 354 stone!
It's always nice to be recognised for helping others gain something - but for Tom Hambidge it's especially pleasing when they don't!
The weight-loss expert from Swindon runs weekly groups for over 160 slimmers in Wroughton & Wichelstowe and is now celebrating after receiving a silver award from Slimming World.
The 'Silver' status by the national slimming club recognises his success in supporting local slimmers to reach their dream weight, improve their health and change their lives.
It's the first time Tom has been awarded the prize since becoming a consultant in January 2016.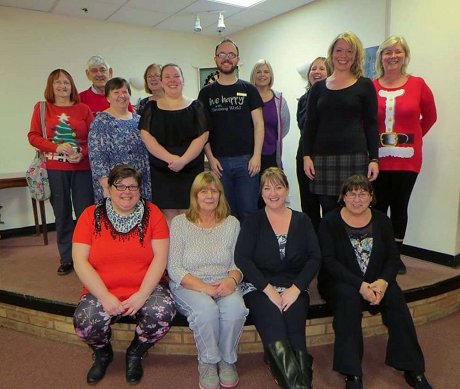 Tom Hambidge (centre) with some of the members of his Slimming World group

"I feel passionately about helping people to transform their lives by losing weight in the same way that I did when I lost 4-and-a-half stone with Slimming World," Tom said.
"Losing weight made me feel happier and healthier and gave me so much more confidence. I became a consultant because I wanted to share that feeling and help other people to achieve the same success I had myself.
354 stones!
All of the 115 members of Tom's Wroughton Group were delighted at the news, with Tom keen to point out that it was their efforts that meant the award.
"They're the ones who make our group the success that it is, with their fabulous commitment, the wonderful support they give each other every week, and, obviously, their impressive weight losses while following Slimming World's Food Optimising eating plan," he added.

"The Wroughton group has really put healthy weight-loss on the map!

"Together, they've lost an amazing 4968.5lbs this year, that's over 354 stone!
"With obesity now at record levels everywhere in England, 26% of men and 24% of women have a BMI of 30 or more, which could put their health at risk, many people here are suffering a range of weight-related health problems from diabetes to heart problems and feelings of low self-worth that impact on their working and personal lives every day.
"It's never been more important that overweight people get the support to make changes to and lead healthier lives – both for themselves and the future generations, their children, too."
If Tom continues his success for a number of months, he'll swap the Silver award for a Gold standard.
"I'm going for gold, although I feel like I've already struck gold – I have a fabulous job that I love and loads of great friends in the members. I'm very lucky and I truly believe I have the best job in the world." ­

To join the any of Tom's groups, which are held every Monday at 7:30pm at Wichelstowe Primary school or Thursdays at 5:30pm & 7:30pm at Wroughton club, either pop along or give Tom a call on 07903 524005.

Facebook page below.
Shape Up This Easter!
The perfect time to start a new healthy-eating regime, says Tom & Jen from Slimming World in Swindon...

23 March 2018