Date added: 14 January 2017
Love. Peace. And Diana Dors!
Swindon's most famous actress honoured with heritage plaque at her birthplace in Kent Road, Old Town
She may have sadly died in 1984, but the spirit & memory of Diana Dors was well and truly alive in Old Town today at a specially arranged event by Swindon Heritage.
The group, who are hugely passionate about the preservation & recording of the history of our town, invited a number of special guests to the unveiling of a blue heritage plaque marking the place Dors was born on 23 October 1931.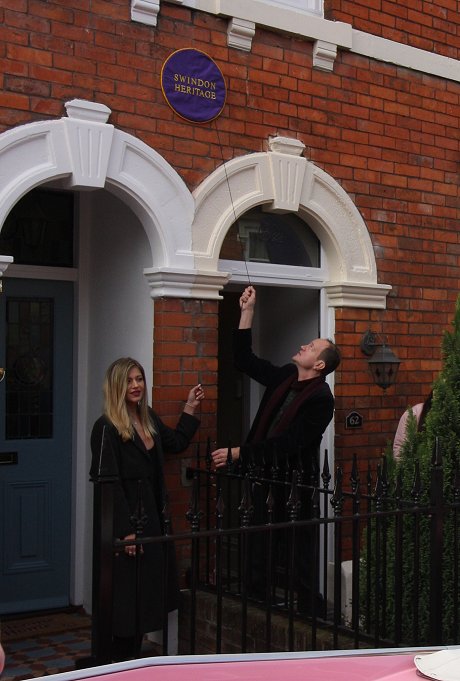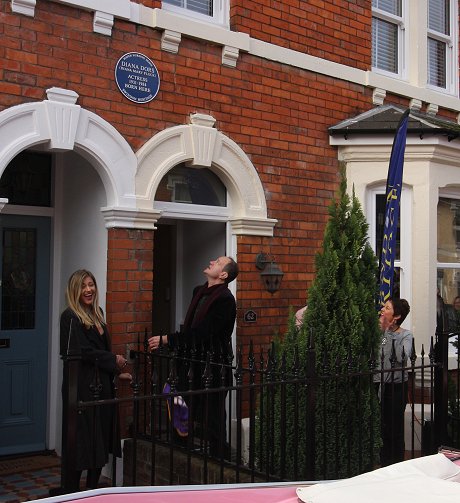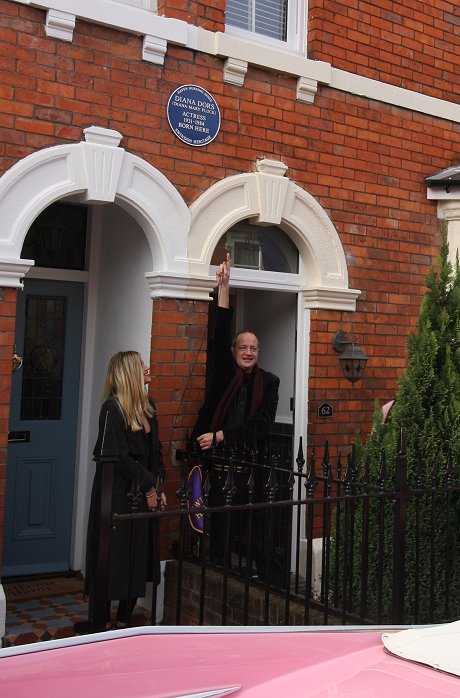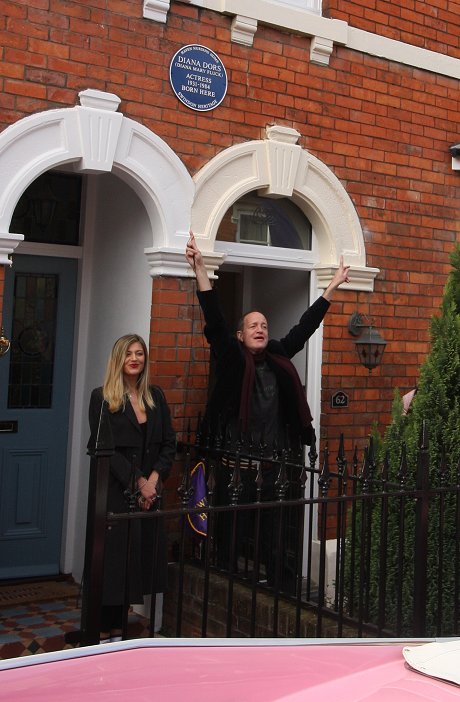 Where Diana Dors was born:
son Jason Dors-Lake & granddaughter Ruby Lake unveil a blue heritage plaque at 61-62 Kent Road, Old Town, Swindon
Dors went on to become a worldwide film star in the 1950s & 60s and was well known as Britain's answer to Marilyn Monroe (see story link below).
Her glittering career brought the high life of Hollywood, Cannes and great wealth for a time, including gifts such as a glamorous pink Cadillac from Shepperton studios, which an made appearance at the event in Kent Road alongside Dors's son Jason Dors-Lake and granddaughter Ruby.
The pair did the honours in front of over 100 people, who gathered to enjoy the occasion.
47-year-old Jason, the youngest son of Dors & Alan Lake (who committed suicide 5 months after Diana's death), shouted 'Love & Peace to you all' as the plague was unveiled before he joined Ruby in the Cadillac for photos.

> MORE IMAGES ON FACEBOOK
The plaque, the second to be unveiled by Swindon Heritage, sits above numbers 61 & 62 Kent Road, which in the 1930s was an inter-connecting nursing home and doctor's surgery at the time.
Born there as Diana Mary Fluck, Diana went on to live in Marlborough Road with her mum & dad until she left Swindon just after the war in 1945 determined to make it big.

And in an introductory speech by Paul Gentlemen of Swindon Heritage, her ambition for fame and fortune was beautifully reiterated by a letter sent for the occasion from fellow famous Swindonian and an old friend of Diana's, Desmond Morris, which was read out.
"Diana said she wanted 'a Rolls Royce, a swimming pool & a white telephone, as all phones at the time were black and it was only the Hollywood stars who had white ones.
"And nothing was going to stop her!"
Incredibly, she achieved all three by the time she was 19!
That was Diana Dors.

Read the full story of Diana Dors: from Kent Road to Cannes, via the link below.


It Was 50 Years Ago Today!
How Swindon played its part musically & graphically in the making of the Sgt. Peppers Lonely Hearts Club Band....

23 May 2017

Nineteen Eighty-Four
RICHARD BURTON'S LAST FILM: Swindon's connection to the movie of the George Orwell classic - 30 YEARS AGO THIS MONTH

The Beatles
50 years on from their first UK hit - here's the FIVE links between Swindon and the fab four...