Date added: 18 February 2019
Honda Pulls The Plug On Swindon
BREAKING:

18 February 2019 3.16pm
After nearly 30 years producing millions of engines & cars in Swindon, Honda has made the shock announcement it will close its plant at South Marston in 2022.
Last year it manufactured 160,000 Honda Civics and directly employed 3,500.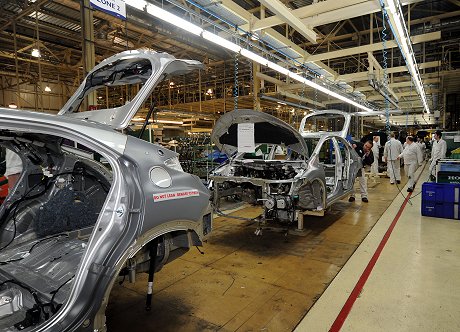 Honda has produced cars in Swindon since 1992
The news comes just 6 months after Honda's senior management appeared to show a vote of confidence in their Swindon factory (see below), and 5 weeks after they announced a 6-day shutdown to allow for a BREXIT evaluation.
April 1985 - Honda of the UK Manufacturing (HUM) was established at the former Vickers airfield site at South Marston, Swindon
September 1986 - operations began as a car pre-delivery inspection centre
July 1989 - engine production at Swindon commenced
October 1992 - car production began with the introduction of the European version of the fifth generation Accord
BREAKING:

10 Jan 2019 5.42pm


Honda in Swindon is cease production for 6 days in April to adjust to the logistics and border impact of Brexit.
Honda statement:
"Honda of the UK Manufacturing Ltd has been assessing how best to prepare for any disruption caused by logistics and border issues following the UK leaving the EU on 29 March 2019.
To ensure Honda is well placed to adjust to all possible outcomes, we are planning 6 non-production days in April 2019. This is to facilitate production recovery activity following any delays at borders on parts. These contingency provisions have been put in place to best mitigate the risk of disruption operations at the Swindon factory."
The news comes today after Jaguar Land Rover announced 5,000 job losses, with the majority in the UK, as it battles a slump in sales and the potential impact of Brexit.
BMW, who produce the Mini car bodies in Swindon, have yet to make any announcement.

But warns Brexit no deal will hit production in worrying echo of 2009
The Senior Vice President of Honda Europe has spoken out on the possible effects on Swindon as the Brexit deadline gets nearer.
Ian Howells said its costs could rise by about 10% if import & export tariffs are applied after 29 March 2019.
"That would impact our productivity, certainly in terms of the flow of product, but also it does hit potentially our competitiveness. Of course, if we are shipping and competing against a European manufacturer in Europe, they're not incurring those tariffs," he said.
This follows Jaguar Land Rover's recent warning that "tens of thousands" of jobs could be lost in the sector if the government fails to reach an agreement with Brussels.
And in June, BMW, who employ approximately 900 people at their Swindon pressing plant, said it may be forced to close its production sites in the UK if components for Mini are caught up in customs delays after Brexit.
But despite the ominous tone, Howells was adamant that the Japanese car giant was fully committed to its South Marston plant and their 3,500 associates, where Honda produces the total car - 600 every day - from casting, engine assembly and pressing through to welding, painting and final assembly.
"The UK forms part of our global network of manufacturing plants, so the only place we produce the vehicle we produce at Swindon is in Swindon itself.
"The logistics of moving a factory the size of Swindon would be huge and as far as we're concerned, we're right behind supporting continued production at Swindon," he added.
10 year since 4 month lay-off
In January 2009, Honda shut down production for 4 months and laid off thousands of workers in the aftermarth of the financial crisis with significant effect on the local Swindon economy.
Honda Shuts Down
BREAKING: Swindon car production suspended by Coronavirus until at least 06 April - or when 'market and supply conditions' allow....

18 March 2020

Honda Fire
Production resumes after weekend blaze...

25 January 2016

I Predict A R-iot
Kaiser Chiefs frontman Ricky Wilson in Swindon to collect new Honda Civic Type-R - SEE PICTURES

20 August 2015

Honda Task Force
We speak to project leader Jill Annal ahead of the job fair organised for redundant workers...

19 May 2014

Honda Take Stock
340 production workers at Swindon plant face job threat after shift change...

25 March 2014

Honda To Cut 800 Jobs
Downturn in EU sales blamed for shock news today - but is it because the new Civic is (hate to say it) plain 'ugly'? - COMMENT

11 January 2013

Honda Launches CR-V
Big boost for Swindon as Business Secretary praises car plant investment...

07 September 2012

Recovery Starts Here?
New Honda Civic rolls off the production line as 500 new jobs announced...

19 December 2011

Beat the recession
New College host open evening which offers advice on surviving the crunch...

09 March 2009