Date added: 26 July 2021
Pandemic Puppy Training!
Janet has seen nearly every breed at her school since lockdown began - but it's NOT all labrad-oodles of fun for some!
"We've had Welsh terriers, old English sheep dogs, Scottish West Highlands and lots of French bulldogs," Janet Garrett, owner of Janet's Puppy Skool in Swindon, told us.
"But no Irish wolfhounds -

yet

!"

The popularity of dog ownership has shot up since the first lockdown last year and it doesn't seem to be stopping.
And, although that means it's incredibly busy times conducting puppy training classes at her school in Haydon Wick (see pics below), Janet is worried that being a poochy parent isn't for everyone.
"It's still a big responsibility, no matter what dog you take on," the award-winning canine expert told us.
"And with us all spending more time at home in the last 15 months, it seems like an easy thing to do.
"But now everything is slowly getting
'back to normal'
, we're finding the novelty has more than worn off for a lot of owners - especially those now returning to work all-day.
"And that can be very confusing for a young dog or puppy used to their owner being around all the time and then suddenly not."

Certainly more home working will make a difference according to Janet, who has trained thousands of dogs in the last 15 years, but overall she hopes the pandemic puppy peak has reached its limit.

"We have such incredible fun at these classes, where we really help each owner and their dog to bond properly and understand each other, so I'd hate to think there's dogs out there who are being given back or re-homed when it's really not their fault."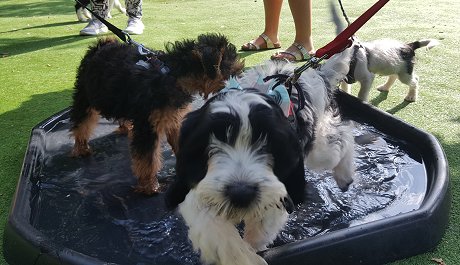 Puppy Pool Party:
dog's enjoying a paw-cooling bath at Janet's Puppy Skool
"The message
"a dog is for life, not just for Christmas - or a lockdown"
has never rung more true."

Full details on Janet's Puppy Skool can be found via the links below.
Skool's back!
16 going on 17 years - and over 10,000 dogs - for Janet's puppy training in Swindon....

21 September 2023

Summer Lark!
There's a new, naughty addition at Janet's Puppy Skool - just in time to join in with the summer training classes!

Fundraising To The Macks!
47 tricks in 47 days & over £1,200 for Children in Need for Janet's Puppy Skool star pupil - VIDEO

17 November 2018

Four Legged Life-Savers!
Puppy Skool fun day raises enough money for 5 defibrillators for Swindon Heart Safe campaign - SEE PICTURES

27 June 2017

New Year, New Dog?
Owners and best friends enjoy fun classes at Janet's Puppy Skool in Swindon - WATCH VIDEO

Sport Relief Walkies!
Swindon 'Puppy Skool' raises money for charity with one-mile dog walk...

22 March 2016

Dog Pound!
Fun day at Janet's Puppy Skool raises over £1000 for Children In Need - SEE PICS

18 November 2015

Janet's Puppy Skool
The joys of owning a dog! We enjoy a puppy training session in Swindon - WATCH VIDEO