Date added: 10 March 2020
Maude, Look How Much You've Grown!
One year on it's time for Crufts for Janet Puppy Skool's star pupil
There's not many dogs who jump from being a naughty, playful puppy to performing obedience tricks in front of thousands of people at the world's greatest dog show.
But when your mum & owner runs an award-winning dog training school here in Swindon, then amazing things can happen in a little over 12 months.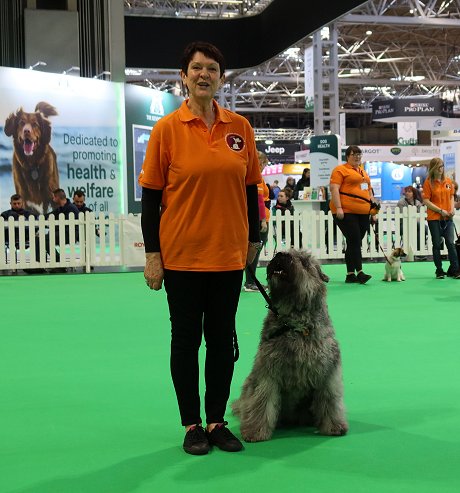 Janet Garrett & Maude at Crufts 2020
"It only feels like last week when we first picked her up as just a ball of fur," admitted Janet, who has run her school in Haydon Wick for over 12 years. "And now we're at Crufts, where she did so well."
"It's been fantastic for her and me to be part of the whole experience and to be recognised and appreciated by Crufts for what we do at Janet's Puppy Skool."
Maude, a Bouvier des Flandres breed, was chosen from over a hundred dogs to be a part of the Good Citizen Display Team for the Bronze Award at this year's Crufts, where she & Janet demonstrated all the elements of the award in various performances throughout the day.
Its aim is to inspire those with big dogs to train their dogs to be Good Citizens. And with Maude's uncle, Blue, part of the prestigious Gold team for 3 years running at Earls Court and the NEC, she has big paws to fill.
"She got so much attention while we were there, I'm so proud of her that she took it all in her stride and didn't get too over excited. The training really works!"
Janet's Puppy Skool is open all-year-round for training of all dogs, ages & sizes, with classes times & more information available via the website link below.
Skool's back!
16 going on 17 years - and over 10,000 dogs - for Janet's puppy training in Swindon....

21 September 2023

Summer Lark!
There's a new, naughty addition at Janet's Puppy Skool - just in time to join in with the summer training classes!

Pandemic Puppy Training!
Janet has seen nearly every breed at her school since lockdown began - but it's NOT all labrad-oodles of fun for some!...

26 July 2021

Fundraising To The Macks!
47 tricks in 47 days & over £1,200 for Children in Need for Janet's Puppy Skool star pupil - VIDEO

17 November 2018

Four Legged Life-Savers!
Puppy Skool fun day raises enough money for 5 defibrillators for Swindon Heart Safe campaign - SEE PICTURES

27 June 2017

New Year, New Dog?
Owners and best friends enjoy fun classes at Janet's Puppy Skool in Swindon - WATCH VIDEO

Sport Relief Walkies!
Swindon 'Puppy Skool' raises money for charity with one-mile dog walk...

22 March 2016

Dog Pound!
Fun day at Janet's Puppy Skool raises over £1000 for Children In Need - SEE PICS

18 November 2015

Janet's Puppy Skool
The joys of owning a dog! We enjoy a puppy training session in Swindon - WATCH VIDEO