Date added: 05 December 2008
Bye bye Button
No more F1 thrills and spills in Swindon, then eh?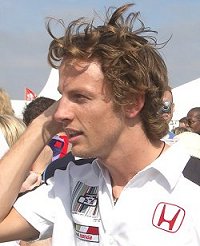 The news that Honda have pulled the plug on Formula One means we are highly unlikely to see Jenson Button back in town.
Or any of his grand prix contempories.
But when they have visited in the last few years, no one could deny it wasn't fast-paced fun.
We've had race winners, world champions, top team managers and some of the most expensive F1 machinery in the business all on show thanks to the close location of Honda's manufacturing HQ at South Marston.
The first real occasion being in 2001, when Honda invited their two Works teams at the time - BAR and Jordan - to give an F1 driving demonstration to celebrate the opening of their new second factory on 10 September.
Jean Alesi loses his rear wing after crashing his Jordan Honda
into the armco on the Swindon factory test track
The event attended by Jaques Villeneauve and Olivier Panis - and marked by the embarrassing spectacle of grand prix winner Jean Alesi crashing his Honda V10-powered Jordan into the safety barrier as he attempted to show-off his car-control skills to workers and Honda management on the factory test track.
A moment SwindonWeb was onhand to capture perfectly!
And then in 2004, Honda invited their star drivers Jenson Button and Takuma Sato to give a similiar display at their annual family fun day.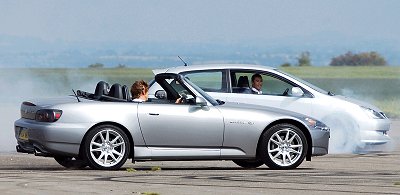 Honda drivers Jenson Button and Takuma Sato
burn some rubber in Swindon in 2004
This time, though, the slightly cheaper four-wheel alternative of a Honda S400 and Civic Type R were supplied for what proved to be a thrilling spectacle held at the former Wroughton airfield.
Most recently, Jenson Button sent a note of congratulations to the Highworth Business Group, when they held their launch party in October this year.
The GP winner noting that he wished the seat in his F1 Honda was as comfortable as the one made by Highworth-based TS Tech in his company Civic.
Not that he'll be seen driving that again soon, we'll bet.
It's The Eboladome!
And it's in Swindon! New Grand Tour test track gets the Clarkson treatment...

21 November 2016

Hello Jenson?
Is the F1 champ heading for Swindon? (well, there's no speed cameras) ...

21 November 2009

Beat the recession
New College host open evening which offers advice on surviving the crunch...

09 March 2009