Date added: 21 April 2007
Ferrari heaven in Swindon
Cavalcade of Ferraris thundering through town
An event organised at Swindon's Dick Lovett Ferrari dealership as part of the famous Italian marque's 60th anniversary of the first ever road car produced by Enzo Ferrari in 1947 saw a rare sight indeed this morning - 20 supercars on the Mannington roundabout!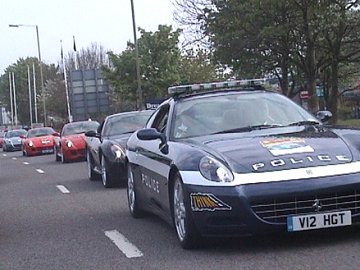 Supercar Swindon:


the procession of Ferraris leave Swindon heading for the M4

In all seven different models of all ages - ranging from vintage to the latest Prancing Horse supercars - stopped off as part of a Ferrari grand world tour, which has already included visits too the Middle East, China, Japan, North America and Europe.

"We have had an association with Ferrari dating back many, many years," commented Peter Lovett, Chairman of Dick Lovett, "and it's an honour to be included in the relay."
Heading the procession of the cars as they set off for the M4, was a special version of the flagship V12 four-seater 612 Scaglietti liveriered in police colours.

A one-off opportunity for police driver Sgt. Colin Conway of Wiltshire Constabulary to experience the power and speed of one of the world's most expensive automobiles - without going over the speed limit of 70mph, of course!

"I was thrilled when I was chosen to do the job," Sgt. Conway told us, "it's a boy's dream, I suppose. And one the other officers have been very jealous of."

The police are supporting the Ferrari 60 Relay to remind drivers of new legislation regarding the dangers posed by using mobile phones while driving.
Ferrari heaven in Swindon - 21/04/2007