Date added: 08 May 2015
Swindon Election 2015
Both Conservative MPs re-elected with increased majorities + ELECTION NIGHT LIVE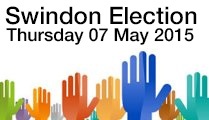 Swindon stayed blue as both Conservative MPs were voted in with increased majorities.
Justin Tomlinson in North Swindon became the first Conservative MP to be elected in the country when the result was announced just after 1.30am.
He beat Labour's Mark Dempsey in to second by 11,786 votes, with over 50% of the vote.
Justin Tomlinson (CON)
26,295 total votes taken. 50.3% share of the total vote.

Mark Dempsey (LAB)
14,509. 27.8%

James Faulkner (UKIP)
8,011. 15.3%
Poppy Hebden-Leeder (GREEN)
1,723. 3.3% share
Janet Ellard (LIB DEM)
1,704. 3.3%
In what was expected to be a tight contest turned in a comfortable victory for Robert Buckland, who defeated Anne Snelgrove, the Labour candidate, by 5,785 votes on a 66.9% turnout.
Robert Buckland (CON)
22,777 total votes taken. 46.2% share of the total vote
Anne Snelgrove (LAB)
16,992. 34.5%
John Short (UKIP)
5,920. 12.0%
Damon John Hooton (LIB DEM)
1,817. 3.7%
Talis Kimberley-Fairbourn (GREEN)
1,757. 3.6%

SWTV broadcast LIVE at the count at The Oasis throughout election night.
SWTV: General & Local Elections - The Results
Highlights
SWTV: Live Election Night Coverage
Full Broadcast
Polling stations opened from 7.00am to 10.00pm on Thursday 7 May 2015
| | |
| --- | --- |
| | Labour |
| | Liberal Democrats |
| | UK Independence Party |
| | Green Party |
| | Conservative |
| | |
| --- | --- |
| | Conservative |
| | Liberal Democrat |
| | Green Party |
| | Labour |
| | UK Independence Party |
Swindon General Elections!
They say whichever party wins in Swindon, wins the general election - we look back on results since 1969...

Election Q&A
The Royal Oak Bishopstone hosts a Q&A with the party political candidates - 17 APRIL

No Time For Tapas
ONE MONTH TO GO: Miliband is back in Swindon - and this time it's at Los Gatos - SWTV GRAB A WORD

07 April 2015

Election Countdown
VIDEO: Harriet Harman's pink battle bus rolls in to town to support local Labour candidate's fight for Swindon children's centres - WATCH INTERVIEW

05 March 2015

Nick Clegg in Swindon
Deputy Prime Minister stops by to sign £129 million growth deal - WATCH VIDEO

18 December 2014

BoJo in Swindon
Boris Johnson joins local MPs at Nationwide (oh yes, Obama due in today!) - GALLERY

02 September 2014

Cheeky!
Opportune advertising raises a laugh at Bruce Street Bridges...

05 May 2010

Election Time 2010
Final day - still unsure? Take a final look at our guide to see videos, history and more...

Cameron in Swindon
Conservative leader chooses Coate pub garden to launch 'grey manifesto'...

18 April 2010

The direct approach
Conservative leader David Cameron answers questions in Swindon - watch video...

10 July 2008