Where To Enjoy The Snow
The best places to sledge, ski and snowboard in Swindon
So what is there to do if it's all-white outside?!!
A rare chance to go sledging, skiing and snowboarding in Swindon, we say.
And here's the best places!
Just remember to take care if you're enjoying the snow and sliding near barbed wire fences!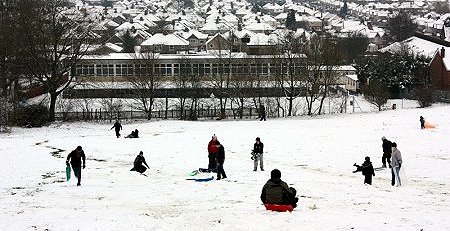 One of the best and slippiest slopes in Swindon - and just steep enough for everyone to have to go.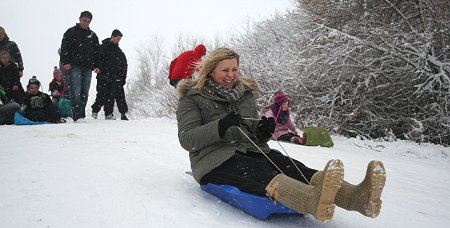 One of our favourites - see vid link below. Two slopes available - both great for picking up speed!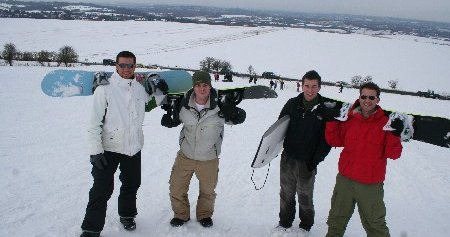 The steepest and longest hill of the lot. Best for skiing and snowboarding. Can be tricky to get to if the snow really starts coming down, though!
Always a popular spot when the snow starts falling - and wide enough for everyone. Just off the A4361 Devizes Road.
And if you haven't got a sled?
Try these people first. If they haven't got one, chances are no one has!
Tel: 01793 433331
Tel: 01793 610701
Tel: 01793 642900
Dog Friendly Food Pubs
Where to enjoy a bite to eat in Swindon and take along your four-legged friend... #dogfriendly

Snowtime Swindon 2013
Here's just a few pictures of the snow in and around Swindon! - SEE GALLERY

19 January 2013

Turn of the Season at Mouldon
A 2 mile stroll exploring Mouldon Hill - learn a little more about its history, and take in the lake, canal and hills...

29 July 2011

Shivery Swindon!
Frosty coating makes it look like a scene from Narnia - SEE PICTURE GALLERY...

07 December 2010

Autumn Walks
The best places to enjoy a leafy stroll in Swindon - with places to eat & drink nearby...