Live theatre and performance venue...

Address: Theatre Square, Swindon, SN1 1QN
Phone: 01793 524481
Website: https://swindontheatres.c...
The Full Monty
REVIEW: And our 'Mum About Town' couldn't stop laughing!
The Wyvern Theatre was full of a constant stream of laughter as a packed audience enjoyed the hilarious opening night of stage play The Full Monty on Monday (29th October).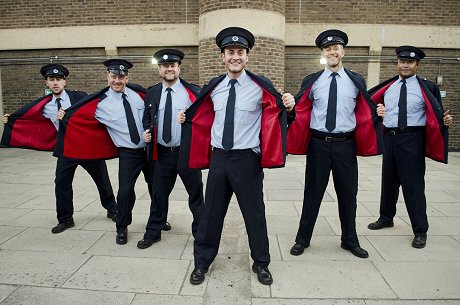 "Chuffin' brilliant":
The Full Monty cast outside The Wyvern this week
Most people know of the acclaimed British comedy film of the same title, which came out in 1997, but the stage adaption (written by Oscar winner Simon Beaufoy) is just as entertaining – if not more!
For those that have been behind a rock for a while, a quick precise synopsis would be that it is about six out of work steelworkers from Sheffield who decide to learn how to be strippers for a show that will help them with their financial woes.
It's full of comedic entertainment from the minute the curtain goes up but far from being just a funny show, the story line also touches on some serious topics – such as depression, unemployment and fathers' rights.
But it does it in a way that doesn't dampen the mood or cause you to feel on edge; it simply ingrains real life issues in a lighthearted manner. Gary Lucy (known for his extensive TV credits, including his part as Danny in EastEnders) plays one of the main parts (Gaz) and he got the women screaming from the first moment in graced the stage.
In fact, every time he showed a bit of flesh, the ladies in the audience got quite flustered (ahem – not me of course, I am a professional writer just doing my job – ahem.)
The rest of the cast are just as superb as Gary but a couple of my personal favourites would be James Redmond (who plays the part of Guy) and Kai Owen (Dave).
James is brilliant and without adding in a spoiler, there is a scene that focuses on him which caused the audience to laugh so much that they couldn't catch their breath.
It was right before the interval and let's just say – it involved an item that caused a stir and raised the roof of the theatre with glee.
All of the actors are exceptional though and there isn't even one slightly weak link. Another memorable thing about this production is the fantastic soundtrack (which is the same as what is on the film). With hits from artists such as Hot Chocolate, Tom Jones and Donna Summer – we all couldn't help but tap our feet and hum along.
Having reviewed many theatre shows across the years - I can honestly say, hand on heart, that this has to be one of the funniest productions I have had the pleasure of watching.
It really is phenomenal and as soon as people were leaving the Wyvern, you could hear many folk saying that they wanted to see it again. Swindon, if you're up for a right laugh – you must see this show before it's final night this Saturday the 3rd of November.
Monday 29 October - Saturday 03 November 2018
The Full Monty is one of the most acclaimed British films ever and The Full Monty stage play has become one of the most phenomenal theatrical productions ever.
This "chuffing brilliant" production about six out-of-work, impoverished steelworkers from Sheffield with nothing to lose, took the world by storm and has become one of Britain's most successful shows.
Based on his smash hit film and adapted for the stage by Oscar-winning writer Simon Beaufoy, this hilarious and heartfelt production has received standing ovations every night and won the prestigious UK Theatre Award.
Featuring Gary Lucy who has made the part of Gaz his own, with an all-star cast of Andrew Dunn, Louis Emerick, Joe Gill, Kai Owen and James Redmond with songs by Donna Summer, Hot Chocolate and Tom Jones you really should… drop absolutely everything and book today!
Day
Date
Time