Swindon Festival of Literature:


Swindon's annual celebration of things well written and things well said...

Phone: 01793 771080
Website: http://www.swindonfestiva...
Swindon Festival of Literature 2015
The annual Festival of Literature is back for its 22nd year!


SWTV: Swindon Festival of Literature
Originally broadcast Thursday 19 March 2015
Swindon Festival of Literature
Monday 04 - Saturday 16 May 2015
Once again, Festival frolics will begin at dawn on that beautiful ridge in Lawn Woods, overlooking Swindon, at 5.30am on Spring Bank Holiday Monday 4th May, with the ever-popular Dawn Chorus, where Festival-following early-birds will gather with Spring songs, sunrise stories, verbal and physical acrobatics, music, Maypole dancing, hot breakfasts, plus a good deal of other early-morning merriment and mischief!
Report by Sarah Hill Wheeler


The countdown to the 22nd Swindon Festival of Literature has begun. Director Matt Holland promises great literature… and a distinctively local flavour.
Speaking at the festival's launch at Swindon Central Library, Holland paid tribute to the late Dominic Winter. Winter was key in founding the first festival in 1994, believing "it would be nice maybe to have something bookish in Swindon."
The festival has grown phenomenally since then. However, it remains rooted in the local community. Supporters and sponsors include Swindon Borough Council, Artswords, and a loyal band of festival friends. Local businesses, Pink Handbag and Acorn Press, co- created the festival brochure.
Holland extolls this community engagement. "Nothing is farmed out to faraway places." The festival may attract international writers and speakers, but is essentially "a home grown product and proud to be Swindon."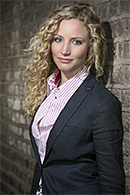 Historian Suzannah
Lipscomb is also due
to attend
This year's line-up boasts some big names. Guests include Sandi Toksvig, Will Hutton, Rory Bremner, Alan Johnson and Patrick Gale.
Just as importantly, the festival will showcase local talent. Planned events include the ever-popular Swindon Poetry Slam, the Youth Slam, an open mic night, a collaboration between dancers and storytellers, workshops for budding writers and performance poets.
Wiltshire author Vanessa Lafaye will be discussing Summertime, her debut novel about the 1935 Labour Day hurricane that wrecked the Florida coast.
Closer to home, Swindon based writing group, Mum's the Word, will join prize-winning novelists to answer the question. How does motherhood affect a writer's work?
Image by Calyx Picture Agency
Something for everyone


Those who prefer fact to fiction will not be disappointed either. Historian Mike Pringle promises a fascinating insight into the lives of everyday Swindon folk during the Great War. Journalist James Attlee invites festivalgoers to join him on his literary travels along the Great Western Line. He will be stopping off in Swindon on his way!


Sportsmen (and women) can listen to Paddy Fitzpatrick, trainer of professional boxers and head coach at Swindon Boxing Gym. Fitzpatrick will be discussing the highs and lows of boxing with lecturer and novelist Anna Whitwham.
A festival on the move


The festival also features some of the town's most iconic, and best loved, locations. Kicking off with the dawn chorus in Lawn Woods on 4th May, events will take place in Lydiard Park, the Arts Centre, Wyvern Theatre, the Town Hall, and Swindon Central Library.
Festival HQ Lower Shaw Farm hosts a daylong event for children and families. Youngsters can explore the world of Swindon's most famous Victorian, Richard Jeffries, at Coate Water.
Those brave enough can even spend an evening in Bath Road Museum listening to some very spooky tales.
A word of caution


The 22nd Swindon Festival of Literature looks set to be one of the best yet. However, Holland has a word of warning for locals. Some of the events sell out quickly, so get your tickets early. "Don't be beaten by Basingstoke, Birmingham, London, and Lincoln," he urges.

To see the full programme, just click on the link below!
We've teamed up with our friends at the Swindon Festival of Literature to offer 1 SwindonWeb reader the chance of winning 2 tickets to see Historian Suzannah Lipscomb speak at the festival in May. Just answer the following question:
Q: Historian Suzannah Lipscomb specialises in which period of British history?
1. Victorian
2. Tudor
3. Edwardian
Day
Date
Time
Fire Starter!
Swindon Festival of Literature gets underway with Dawn Chorus entertainment - SEE PICS

03 May 2016