Date added: 10 September 2001
Formula One comes to Swindon
The day Honda's F1 teams showed off - and wrecked a car in the process
It's not everyday that the glamorous world of Formula 1 comes to Swindon, but that was exactly what happened when Honda's F1 teams BAR and Jordan paid a flying visit on 10 September 2001.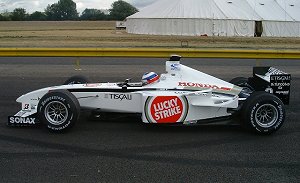 Wheel-spinning:

Olivier Panis in
Appearing as part of celebrations to toast the opening of Honda's new £130 million pound factory in the town, star drivers Jean Alesi, Olivier Panis and 1997 World Champion Jaques Villeneuve thrilled an invited audience of Honda dignitaries and production line staff with a spectacular display of driving.

Using the test track at the car manufacturer's South Marston plant as a makeshift circuit, a whole series of rubber-burning stunts and manouvers were put on to demonstrate the power of the Honda V10 engine in both cars - a sought after power plant widely considered as being the lightest and most potent in Formula 1.

To everyone's amazement, however, the driving exhibition was dramatically cut short after Jordan driver Jean Alesi lost control of his car while performing one of his trademark 'doughnuts' (accelerating the car very rapidly while turning cause it to spin and leave smoking tyre marks on the circuit).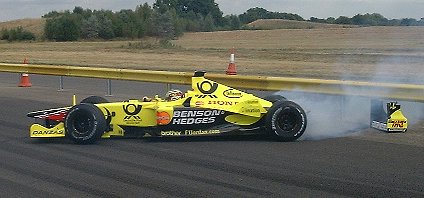 Jean Alesi bumps his Jordan into the barrier
Misjudging the distant he allowed himself to spin the car, the former Ferrari driver ended up colliding with a safety barrier and wrecking the back-end of his multi-million pound racing machine!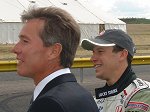 Amused:
BAR's Craig Pollock
Unable to continue, the Grand Prix winner limped back to the temporary pits more embarrased than shaken by the incident to be greeted by a less than pleased team boss, Eddie Jordan.

As arch rivals in the Formula 1 championship and also as Honda customers (Honda had announced that only one team would receive their engines at the end of the season) it was also a moment that wasn't lost on BAR supremo Craig Pollock, who had more than a wry smile when the yellow-liveried Jordan hit the buffers.

Those present at the display were then treated to a close-up view of both cars and a tour of the team's state-of-the-art mobile workshops. The drivers were also on hand to answer questions about Formula 1 and to sign autographs.

The celebrations ended with a banquet lunch attended by the members of both teams and various members of Honda's hierarchy including Company President Hiroyki Yoshino who praised the Swindon factory's ongoing success.
Formula One in Swindon - 10/09/2001
It's The Eboladome!
And it's in Swindon! New Grand Tour test track gets the Clarkson treatment...

21 November 2016

Hello Jenson?
Is the F1 champ heading for Swindon? (well, there's no speed cameras) ...

21 November 2009

Bye bye Button
No more F1 thrills and spills in Swindon, then eh?...

05 December 2008