A Bridge Too Far
The story so far of Swindon's famous battered bridge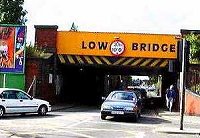 We know it's low, you know it's low... so how come so many drivers of high-sided vehicles drive into it every year?

The headroom under Whitehouse Bridge is 10ft (3.1m) - not enough room for a coach, let alone a double-decker bus, but that doesn't stop drivers trying the impossible.
Now officially the country's most dangerous bridge, it was hit by over 130 vehicles in the 1990s alone.
A figure that includes one double-decker on 15 October, 1996 which Railtrack deliberately rammed into the structure at 40 mph to publicise the danger of this bridge in particular and low bridges in general.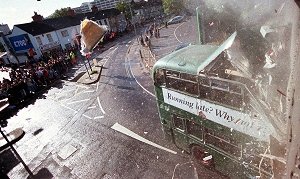 a bus deliberately smashed into
Whitehouse Bridge in 1996
This unique event was even shown on national television news, but it is clear that at least one bus driver wasn't watching TV that day.

In a subsequent accident, the bridge was hit by another double-decker - this time belonging to Thamesdown Transport. Luckily, only the driver was on board at the time.

No one has yet been seriously injured, thankfully, but the poor old bridge is still being hit with amazing regularity.
Even a new paint job in bright yellow with additional signs leading to the approach failed to do the trick in March 1998 as accidents continue (see links below).

Every time it is hit, the bridge has to be checked by engineers to ensure that it is still safe as it carries the main railway line to London.
The total cost of repair work following accidents at the bridge is estimated at £500,000. So far.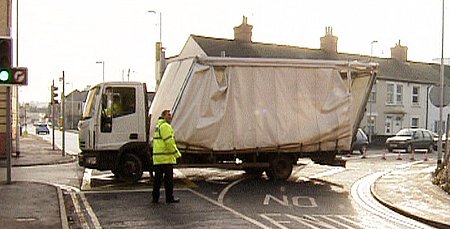 this lorry driver wasn't the first to be a victim of Swindon's famous battered bridge..... and he won't be the last
Not The Brightest Spark!
Oh not again! Wootton Bassett Road re-opens after another lorry falls victim to Swindon's famous railway bridge - SEE PICS

10 February 2015

Neigh! Neigh! Not Again!
Driver has a Mare as horsebox gets stuck under Swindon's most battered bridge - PHOTOS

28 February 2014

Here We Go Again!
Wootton Bassett Road closed as yet ANOTHER lorry hits the bridge - SEE PICTURES - ROAD NOW OPEN

22 January 2013

40 Years Of Magic!
Swindon's world famous roundabout is 40 years old this month - TELL US YOUR MEMORIES

12 September 2012

Not again!
Wootton Bassett road closed after lorry strikes railway bridge...

09 December 2011