Brian Clough
Swindon Town's connection to old big 'ed, Brian Clough, who sadly died 10 years ago this weekend
Article first published on SwindonWeb, 27 March 2009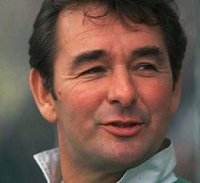 Saturday, January 7, 1978: Brian Clough's Nottingham Forest, top of the league, well on their way to winning the Championship by seven points, and less than a year and a half from winning the European Cup, come up against Swindon Town in the third round of the FA Cup.
On the face of it, they thrash them.
David Moss scores Town's only goal as they go down 4-1 to two goals from Tony Woodcock and one each from Peter Withe and John Robertson.
But in a radio interview, straight after the game, a BBC reporter congratulates Brian Clough, live on air, on his side's latest victory.
"Let me first say, young man," says Cloughie, "that Swindon played very well and gave us a much harder game than the scoreline suggests. I think we should recognise that first."
It was typical of Cloughie. Any reporter whom Cloughie called "young man" knew he was in for some kind of lesson, and this time it was that Brian Clough may have been a lot of things, but above all else he was fair.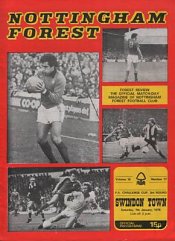 Town met Forest under Clough
nearing
their peak in 1978
Managers often say nice things about beaten opponents, especially in the FA Cup, but Brian Clough never said anything in his life that he didn't mean, and for Town fans travelling home from the match, disappointed to be out of the Cup, it meant almost as much to be going home with praise from Cloughie as it would have done to be going home with a replay.
It was the only time that Clough's and Swindon's paths crossed in the FA Cup – either during his brief playing career or his legendary managerial days. And neither did any of the teams he played for (Middlesbrough and Sunderland) or (Hartlepool, Derby, Brighton, Leeds, Nottingham Forest) ever play Swindon in a league match.
But there were three encounters in the League Cup, and one of them led – for once - to glory for Clough's opponents.
It was 1968 and Town – then in the old Third Division – were drawn against Clough's Derby County in the fifth round.
After a 0-0 draw at Derby's then home, the Baseball Ground, in front of a crowd of 35,014, the teams reconvened at the County Ground on Bonfire Night, 1968, when a cruelly deflected Don Rogers efforts in extra-time finally broke the deadlock, and Town ran out 1-0 winners.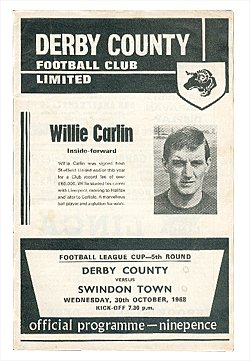 Town at the Baseball Ground
At the time, Derby were in the middle of a 14-match unbeaten run that heralded a remarkable era. They would eventually run away with the Second Division Championship that season, win the League Championship three years later, then reach the European Cup semi-finals.
Town were only one of two teams to come away from the Baseball Ground without conceding a goal that season.
These days, big clubs are not so interested in progressing in domestic cups, especially the League Cup, but that certainly didn't apply to Derby, who had already won through to the fifth round and were favourites to make it to the semi-finals. Besides, whoever heard of a team managed by Brian Clough going out with less than a one hundred per cent intention of winning?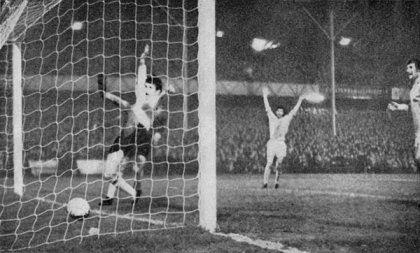 Town
beat Derby County back at the
County Ground
in the fifth round replay 1-0 in extra-time (above)
on their way
to winning the League Cup in 1969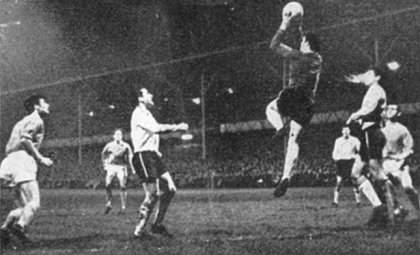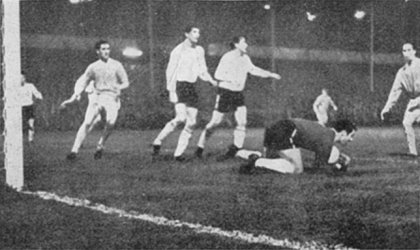 Town's win led to even greater things as they eventually won the cup by beating First Division Burnley and Arsenal, but it may also have been an important turning point in Clough's career.
They were already unbeaten in five games – winning four – before they faced Town, but the ignominy of losing to a Third Division club, and the certainty that Clough would have made his players suffer for it, must have redoubled their efforts.
It's not hard to imagine the famous video clip of Clough on the training ground, telling one of his players "You're a bloody disgrace!" being acted out in the County Ground dressing room, after their defeat.
It may have been just the wake-up call that his team needed. Within a couple of weeks they went top of the division - and never looked back until Clough and Derby parted company.
They had to wait until September 5, 1972 before they got their revenge on Town – coincidentally in the League Cup – when a single goal by Terry Hennessey settled a second round tie in front of 15,570 at the County Ground.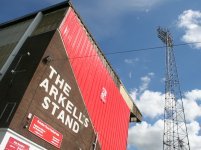 Brian Clough brought his Derby
side to face Town to celebrate
However, there had been another meeting between Clough's Derby and Town, on Tuesday, October 26, 1971, when they played a friendly to commemorate the opening of the new North Stand (now the Arkell's Stand) at the County Ground.
It was a generous gesture for a First Division manager to bring his team down for such a match, especially in midweek and during the season – and one that few managers of today's clubs would even consider.
The meeting that never was
The Forest FA Cup tie in 1978 was the fourth and last competitive match between Clough and Swindon, and perhaps the greatest meeting is the one that never was.
Both sides made it through to the semi-finals of the 1980 League Cup, but were kept apart in the draw, and while Forest won through by beating Liverpool over two legs, Town were more than a little unlucky – and felt very hard done by – to lose a controversial tie against Wolves, who went on to beat Forest in the final.
It should have been Town:
the League Cup final 1980
between
Forest and Wolves,
who beat
Swindon controversially
in the semi-final
(see Swindon 4
Arsenal 3 below
for Andy Rowland's
video
memories of the Wolves semi)
Who knows what a Wembley showdown between Clough and Swindon would have brought if Town had got what they deserved from the semi-finals – except that it would have been an unforgettable experience.
Brian Clough was the greatest manager that England never had and a hero among the vast majority of true football fans, whether they had any allegiance to the teams he managed or not.
He once famously said that he wasn't necessarily the best manager, but was "in the top one", and there aren't many fans in Swindon or elsewhere who would argue with that.
It's well documented that Cloughie liked to do a bit of business in the transfer market - his signing of Trevor Francis for a then-record fee of £1,000,000 (or £999,999 according to Clough) in 1979 probably his biggest. But his only deal with Swindon was far from high profile.
In 1980, Clough let one of his most versatile players - and a Forest legend for one particular goal - leave for the County Ground, only for Swindon to move him on ten months later.
Colin Barrett had played 35 times for Clough in Notts Forest's championship winning 77/78 season, and won a European Cup Winners medal in '79, most notably for his superb late volley that helped knock the defending champions Liverpool out in the first round.
But niggling injuries and other big name signings meant few starts at the City Ground after that, and a move to Swindon in June 1980 followed. But after only 5 appearances and no goals, Barrett was sold to Aldershot in May 1981.
The Dave Mackay connection
In the Derby line-up to play Town in 1968 was Dave Mackay - a name that is revered in football circles everywhere, except in Swindon.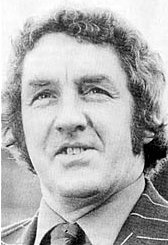 - but not popular at Swindon
Mackay was the epitome of the football hard man and certainly one of the greatest players of his era – a fact that wasn't lost on Brian Clough. He recognised Mackay's tough-tackling, all-or-nothing approach to the game as ideal for the kind of team he was trying to build at Derby, so signed him from Spurs in the summer of 1968.
Mackay was Footballer of the Year in 1969 under Clough at Derby, but his long playing career was coming to an end in May 1971 when he was controversially signed by Swindon Town.
They signed him for £20,000 – ostensibly as a player, although he was already being groomed as a future player-manager of the club, even though Fred Ford was still in charge.
Mackay duly took over after Ford was sacked in November 1971.
It is an understatement to say he was no-nonsense player, so it was inevitable that Mackay's management style would be the same.
Although he had also been a member of the Spurs double-winning side under Bill Nicholson, Mackay's approach must also have owed much to the Clough model.
Like Clough, he certainly wasn't afraid to make bold and outrageous decisions, nor make himself unpopular with certain players, and just about his first action as manager of Swindon was to drop club captain and crowd favourite Stan Harland, which made him instantly unpopular at the County Ground.
Few fans who remember that era in Swindon have much good to say about Mackay's reign at the County Ground, and when he resigned a year later, few seemed disappointed.
Indeed, they were infuriated that although his departure was supposedly for "personal reasons" he returned to management just a week later – ironically as manager of Nottingham Forest.
In another twist, Mackay would eventually leave Forest to succeed Clough after he and his assistant Peter Taylor parted company with Derby in October 1973.
Clough's departure provoked a near mutiny among the players and supporters, who all wanted him to stay, and Mackay was perhaps the only man with enough standing at Derby to diffuse the situation by daring to step into Clough's shoes.
And as if he wasn't already unpopular enough in Swindon, one of Mackay's first actions as Derby manager was to sign Town's Welsh international full back, Rod Thomas, for a club record £100,000.
And our reason for profiling Swindon's connection with Brian Clough? The Damned United film, of course, starring Micheal Sheen as 'old big 'ed' as Cloughie used to be known, which opens in cinemas on 29 March.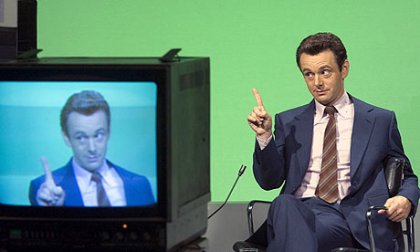 Michael Sheen as Brian Clough in The Damned United
Diego Maradona
Swindon's connection to the mercurial football artist.
WARNING: CONTAINS WORDS & RECOLLECTIONS SOME TOWN FANS MAY FIND DISTRESSING

Swindon 4 Arsenal 3
Giantkillers again. We chronicle Swindon's greatest night at the County Ground - incl. SWTV INTERVIEW WITH ANDY ROWLAND + WATCH TOWN GOALS...

A Day to Remember
50 YEARS AGO!Memories of Swindon Town's greatest day - the 1969 League Cup Final - 15 MARCH 1969 - WATCH VIDEOS

George Best
The Good, The Bad and The Bubbly - and Swindon enjoyed all three #legend....