Swindon World Cup Connections
From Fabio to Fleming - Swindon Town's Top 10 connections to the World Cup
As if you couldn't get enough of the World Cup already, we've put in tireless hours of research to find out Swindon's connection to this year's tournament and all the other years we thought England had a chance come to think of it.
The type of footy facts that will bamboozle your mates down the pubs - and provide a sobering anicdote as England agonisingly go out on penalties in the quarters and we all end talking about 1966 again (please don't call us cynical, we're Town fans after all).
"Don Rogers was on Alf Ramsey's christmas card list, you know"
- we can he hear it now.

First up, then - Fabio!
England manager Fabio Capello's first experience of English football was at the County Ground in 1969, when he came up against Swindon Town – and lost.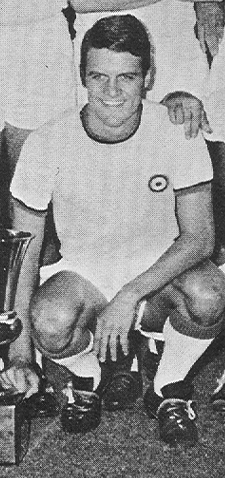 Pictured in the programme
He played for AS Roma in both legs of the Anglo-Italian Cup Winners' Cup final, which Town won 5-2 on aggregate.
The competition was created by the Football League as a way of compensating Town for being barred from entering the 1970 Inter-Cities Fairs Cup (which was re-named the UEFA Cup in 1971 and is now called the UEFA Europa League).
Victory over Arsenal in the 1969 League Cup should have been rewarded with a place in the Fairs Cup, but under League rules teams from outside the First Division (the top tier) could not represent England.
The two-leg tie was the first game in charge for newly appointed boss Fred Ford, following Danny Williams's departure, earlier in the summer, to manage Sheffield Wednesday.
The name of the Anglo-Italian League Cup Winners Cup suggests AS Roma were merely the Italian League Cup holders, but they had actually won the Coppa Italia, the Italian equivalent of the FA Cup.
Midfielder Fabio Capello was described in the home programme as being on the fringe of the Italian national team, and he would go on to win 32 caps. The highlight of his playing career was scoring the only goal in Italy's first ever win over England at Wembley, in 1973.
He helped Roma to a 2-1 first leg win against Town on August 27, 1969, in front of at least 40,000 supporters (accounts vary). But he and his team-mates were on the receiving end of a 4-0 drubbing at the County Ground, on September 10, 1969, thanks to a hat-trick for Arthur Horsefield and a goal from Don Rogers.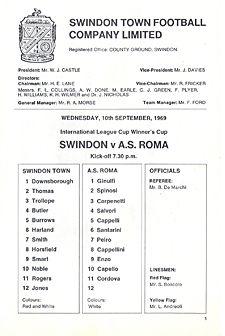 Line-ups:
As listed in the programme
Capello forced Town goalkeeper Peter Downsborough to make good saves in both matches, but failed to get on the scoresheet.
Town celebrated with a reception at the Goddard Arms in Old Town – which the Italians, including Capello, also attended.
It was Capello's first visit to England as a player, and it must have made an impression on him. Don Rogers later recalled the team performance as possibly the best in all his career at Swindon.
A Daily Telegraph article in 2007 described it has a "humbling" experience for Capello, and Town players deserved credit for "giving the England manager a demonstration of teamwork that he has never forgotten".
The competition, which was contested six times, was also called the Anglo-Italian League Cup, but should not be confused with the Anglo-Italian Cup, which Town also won in its inaugural year, 1970.
Capello later became AS Roma's manager and led them to the Italian League title in 2001.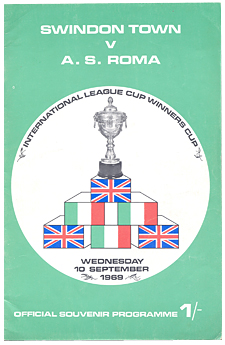 Special edition for the home leg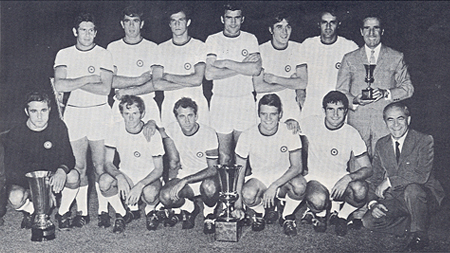 The AS Roma team that came to Swindon in 1969
Rory Fallon has now joined the ranks of former Swindon Town players to play in the World Cup with New Zealand competing in South Africa against Italy, Paraguay and Slovakia in Group F.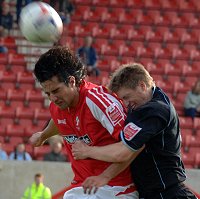 But the popular striker should have become a member of a more select club - players to represent their country while on the books at the County Ground.

It would take a major rule change by FIFA before the Kiwi finally got the call-up for the All Whites, despite having strong links to the New Zealand football set-up.

Fallon started 51 games for Town between November 2003 and January 2006, but the fact that he also came on 38 times as substitute probably tells the real story - of his unpopularity with manager Andy King and the time he spent in the shadow of free-scoring strikers Sam Parkin and Tommy Mooney.

The omens weren't good from Boxing Day 2003 when he was sent off after half an hour of his debut at Rushden and Diamonds, and it took a long time before Fallon became a County Ground favourite.

But frustration at club level was nothing compared with his international career, which hit the buffers because he had represented England at junior level.
This prevented Fallon from playing for New Zealand until 2009, even though he was born there and even though his New Zealand-born father, Kevin Fallon, coached the national team in 1982 - the last time they made it to the World Cup finals.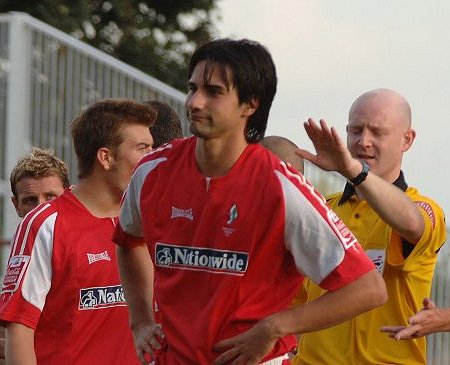 Fallon is sent-off against Scunthorpe in 2005

FIFA's rethink over the eligibility of players with dual nationality finally opened the doors to his international career, but by then he had left Town for Swansea City, and now plies his trade with Plymouth Argyle.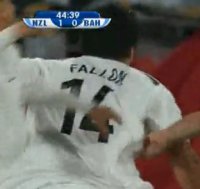 Fallon's header in the qualifiers
sent New Zealnd to the finals
And what an impact he made when he was finally selected. He was the star of New Zealand's surprisingly successful qualification matches, thanks to scoring the only goal in their play-off against Bahrain.

But Rory Fallon's international career is never going to be straightforward, and he quickly went from national hero to villain when he stayed behind to help Plymouth's ultimately unsuccessful bid to avoid relegation from the Championship while the rest of the New Zealand team played a friendly against Mexico in February.

So Fallon, who is still only 28 years old, needs to win over the fans all over again in South Africa, and the stage could be set for yet another twist in the story.
Rory Fallon sends New Zealand to the World Cup Finals
courtesy of YouTube

Key England squad member Michael Carrick effectively began his senior career at Swindon, when he was just 18.
He was a star of West Ham's FA Youth Cup-winning team of 1998, alongside Joe Cole, scoring two goals in the final as the Hammers won 9-0 on aggregate against Coventry City. And he made his senior debut for the Londoners in August 1999 when he came on as a substitute in a match against Bradford City, ironically replacing Rio Ferdinand.
But it wasn't until he came to the County Ground on loan that he got his first taste of regular first team football, and this proved to be a crucial moment in his career.
Carrick made his debut in a goalless home draw against Norwich on November 12, 1999, and played five more times for the Town, scoring twice – against Charlton and Walsall.
West Ham's manager at the time was Harry RedKnapp, and he told the London Evening Standard, earlier this year, that when Carrick was at Swindon, "I was getting calls saying they had not seen anything like him since Glenn Hoddle. And then you know you've got a player, don't you? That's what you're looking for when you loan them out. You're looking for them to make a real impact wherever they go. And when you get them back you think, 'Stick him in the team.'"
Despite Carrick never playing in a winning Town team, it came as no surprise to nobody in Swindon that the loan spell turned out to be only the beginning of an illustrious career with West Ham, Tottenham, Manchester United and England.

Like his England team-mate Michael Carrick, James Milner had a loan spell at Swindon to thank for giving a timely boost to his career.
Bizarrely, the midfielders share identical records at Swindon Town, playing six times and scoring twice, but with one significant difference – whereas Carrick was never on a winning side at the County Ground, Milner was never on a losing one.
He played for Town in September 2003, aged 17, scoring against Peterborough and Luton.
Milner had already made an impact at his parent club, Leeds, becoming the second youngest Premier League player and becoming its youngest scorer, but Leeds manager Peter Reid thought he would benefit from the chance of a regular spell of first team football at Swindon – and was proved right.
On Milner's return, Reid said: "He has really come on, and I think the month away has done him terrific physically, and his time at Swindon has helped him grow up.
"I have seen an improvement in the physical side of him and that can only be a bonus.
"It might have helped him mentally as well, because sometimes you do get closeted when you are at a big Premier League club and you don't know what the real world is like out there."
Indeed, Milner never looked back, but the same could not be said of Leeds. As they slipped down the League, their young star had to be sold to Newcastle and he eventually moved on to play for Aston Villa – and England.

Sir Alf Ramsey bought himself national immortality when he managed England's legendary World Cup-winning team, but in Swindon he is still reviled for being the man who DIDN'T pick Town winger Don Rogers.
England took the footballing world by storm in 1966 with a team that will be forever celebrated as Ramsey's 'wingless wonders'.
It's a term that half explains why Rogers never got the call, the other reason being that Ramsey never could bring himself to select a player from outside the First Division, even though there was much less of a gulf between the divisions than there is now.
The fact that the loyal Rogers played much of his football for Town in the third tier and was still in contention for England call-ups is an indication of how highly rated he was.
Indeed, it is difficult to think of another player who more accurately fits the tag of 'the best player never to play for England', although, technically, that's inaccurate.
Rogers won England caps - at youth level, where current Tottenham manager Harry Rednapp was one of his team-mates.
He was also selected twice for the England Under-23 side (as it was then), playing against Yugoslavia and Wales, where he was due to come face-to-face with Town defender Rod Thomas until the Welshman missed the game because of injury.
Even though Rogers later played in the old First Division, following his transfer to Crystal Palace, he never did get the call from Ramsey – but he did get a couple of Christmas cards from the England boss, which he still has.
Ask people in East London who won the World Cup in 1966 and they are liable to tell you it was West Ham.
Three Hammers famously formed the core of England's great team – and between them scored all of England's goals in the final against West Germany. Defender Bobby Moore, midfielder Martin Peters and striker Geoff Hurst spent most of their careers at West Ham, who won the FA Cup in 1964, but were on the wrong end of a giant-killing feat in 1967, six months after England's World Cup triumph.
All three World Cup-winning players were in the side that was held 3-3 in the third round match at Upton Park on January 28, 1967, as well as in the replay, which Town won 3-1.

Bobby Moore's legendary status as England's World Cup winning skipper is such that a larger-than-life statue of him welcomes visitors to Wembley Stadium.
But arguably England's greatest ever defender suffered one of the worst defeats of his career when he came to Swindon on January 8, 1977 for an FA Cup third round replay.
By now the former West Ham man - who had already been humbled at the County Ground ten years earlier (see above) - was in the twilight of his career and playing for Fulham, playing alongside two other huge names in the history of British football – Rodney Marsh and the incomparable George Best.
Fulham had salvaged a 3-3 draw in the first match at Craven Cottage, but must have wished they hadn't as Town ran riot in the replay, winning 5-0.
It was a long-awaited return to the County Ground for Best, who also played in Manchester United's FA Youth Cup side that beat Town in the FA Youth Cup final first leg at the County Ground in 1964. Don Rogers scored for Town and Best for United as the game ended 1-1, but United eventually won 5-2 on aggregate. In both games, fans were arguably seeing the best player never to play for England against the best player never to play in the World Cup.
The Bobby Moore statue at Wembley, commemorating England's 1966 World Cup victory

Only one man has won full England caps while being a Swindon Town player, but despite a remarkable scoring record, never got to play in a World Cup.
Harold Fleming was capped 11 times by England, and scored almost as many goals. He made his debut against Scotland in 1909 and scored his first goal in his next match – against Hungary in Budapest. He eventually clocked up nine international goals, including a hat-trick against Ireland in Dublin in 1912. He tasted defeat only once – in what was to be his last international match – against Scotland at Hampden Park in April 1914, in front of 127,307 spectators.
Fleming would almost certainly have played many more times for his country but for the intervention of the First World War – and would have been a leading contender to make the squad if there had been such a thing as the World Cup. Sadly for Fleming, it was not invented until 1930.

Only two Swindon Town players have ever played in the World Cup while on Town's books – and despite being English, the first made his World Cup debut against England, and playing for an English manager.
Alan McLoughlin's Irish ancestry made him eligible for Jackie Charlton's Republic of Ireland's squad at Italia 90, and he came on as substitute in the match against England when, ironically, future Town manager Steve McMahon was on the opposite bench. The match ended 1-1.
McLoughlin also came on in Ireland's 0-0 draw with Egypt. He had left Town and was playing for Portsmouth before the 1994 World Cup, and although he was named in the squad, didn't play in the finals, despite scoring a crucial goal in qualifying. He got the equaliser in the deciding game against Northern Ireland in Belfast – ironically a reply to Reading's Jimmy Quinn, who had already had two spells with Swindon Town as a player and would eventually return as Town manager. Quinn helped Northern Ireland qualify for the 1986 finals – by then a player with Blackburn Rovers – but did not figure in any of the games.
Jan Age Fjortoft became the second Town player to play in a World Cup when he took part in two of Norway's three matches in the USA in 1994 before they were unluckily eliminated after all four teams in their group finished on the same number of points.
Four years later, in 1998, England's hopes of World Cup glory came crashing down at the hands of Argentina, but just qualifying for the finals was a dream come true for Jamaica. And former Swindon Town midfielder Fitzroy Simpson, who, started 98 matches in a Swindon shirt, made the squad, even though he was born in Wiltshire.
By then a Portsmouth player, Simpson's Jamaican parentage qualified him to play, and he appeared in all of their matches – still their only World Cup finals appearances – against Croatia, Argentina and Japan.

Swindon Town came within a whisker of having World Cup winners on their team sheets – not once but twice.
Ossie Ardiles, of course, was a member of the brilliant Argentinian team that won the trophy on home soil in 1978, but although he became player-manager of Town in 1989 (until 1991), he never actually started a competitive match for the club.
Fellow Argentinian Nestor Lorenzo, however, played 23 times for Town between 1990 and 1992 – but the central defender narrowly missed out on winning the World Cup.
He not only made the starting line-up for the 1990 final in Rome, which Germany won 1-0, but was among the nine Argentinians who finished it. Ardiles also played in the 1982 finals.
World Cup Swindon
Big screens, booze and Brazilian takeaways - kick-off your World Cup right here...