Eastenders
Swindon's connection to Albert Square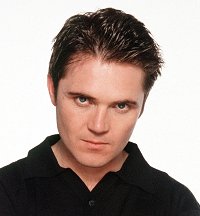 The connection between Swindon and Britain's most popular soap concerns the trial of Little Mo' (Kacey Ainsworth), who was sent to jail for hitting her abusive husband, Trevor Morgan (Alex Ferns), with an iron on New Years' Eve 2001, and her families attempt to free her.
In an episode, first broadcast on 24th May 2002, Little Mo's sister, Kat Slater (Jessie Wallace), tries to find Trevor's ex-wife in an attempt to persuade her to testify against him at Little Mo's appeal and to expose him as the wife beater that he is. And guess where she lives - yes, Swindon!

Kat convinces Billy Mitchell (Perry Fenwick) to drive her from Walford to Swindon in his black cab and, in a scene that looked like Covingham or Eldene (but most probably filmed in Slough!), Kat finally finds the right house (after being totally ignored by a 'Swindonian' they asked directions!) to be shocked to find that Trevor has moved back in with his ex-wife!
Kat is soon told 'where to go' by evil Trevor and the thousands of viewers glued to their sets are left safe in the knowledge that Swindon is the new home of the most hated man in Britain! How nice for good old Swindon!
And in the same evening, on the Jonathan Ross Talk Show, Julian Clary (on his 43rd birthday) spoke warmly of Swindon and his opening of the Wills Bowls Club! (research conducted by the BBC using yours truly, SwindonWeb!) No wonder Radio 2 like us so much!
Special thanks to the Picture Dept. of the BBC who kindly supplied the images for this story. All images are strictly copyright BBC and must not be reproduced without their written permission.