Hollywood and the Movies
Well, we've never actually won an Oscar but here's Swindon's connection to the big screen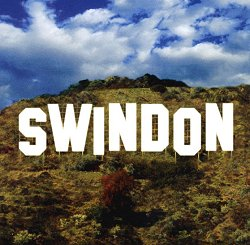 Hardly Hollywood
- but who cares?:
we've got Diana Dors.. and err...
To celebrate the fact that Swindon has more cinema screens per person than anywhere else in the country, we've trawled the archives (and imagination) to come up with a top 10 of our town's seamless connections to the movies.

OK, so Swindon and Los Angeles are rarely mentioned in the same breath, and the closest we've got to Tinsel Town is Holyrood. But even Swindon can notch up a Top 10 to be proud of!

First though, some strict criteria:

The theme is 'connections' rather than solely films or stars, but all links must be concerned with Swindon and not the surrounding areas. So we don't care if the last Harry Potter movie happened to be shot on location in Lacock (that comes later when we're more desperate), or if Terence Stamp ponced about with his sword in Devizes shooting Far From the Madding Crowd. All ten connections - some tight, others looser than the Nutty Professor's trousers - are purely concerned with Swindon.

So sit back, get yourself a can of Arkell's 3B and let us take you on a glamorous tour of Swindonwood.

And keep reading for an exclusive competition at the bottom of the page.
Britain's answer to Marilyn Monroe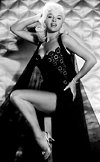 Screen siren:
Diana Dors
If Diana Dors wasn't quite Britain's answer to Marilyn Monroe, she was certainly Swindon's.

Born Diana Mary Fluck at Haven Nursing Home on Kent Road in 1931, Diana grew up at 210 Marlborough Road, with her father Bert working in the accounts office of the Swindon GWR Works.

Although she never quite made it in Hollywood, Diana became Britain's top sex symbol and highest-paid star in the 1950s, with hit films including Here Come the Huggets, The Weak and the Wicked and Yield to the Night.
She was never far from the media spotlight, particularly surrounding her scandalous relationships with Rod Steiger and playboy Dennis Hamilton, and for a glorious decade Diana Dors was a bona fide star.

Diana died of cancer in 1984, but will live on in the memory as Swindon's most beloved star. Her life is commemorated by a statue at Shaw Ridge.
2. A View To A Kill (1984)

Connections two and three concern the world's most famous secret agent.

Not only did Bond creator Ian Fleming live in the Borough of Swindon in the small village of Sevenhampton, but 007 has himself stopped by these fine parts on two separate occasions, in the guises of Roger Moore and Pierce Brosnan.

The first time 007 met SN1 was during the filming of the 1984 Roger Moore Bond adventure A View to a Kill, also starring Christopher Walken. Although Swindon is not actually recognisable, a series of scenes featuring Bond and Patrick MacNee (Sir Godfrey Tibbett) were shot inside the Renault building.

Rumours that Bond was really there to consider a straight trade of his classic Aston Martin for a Renault Clio were unsubstantiated.
3. The World is Not Enough (2000)
James Bond back in Swindon

00' heaven-2:


Pierce Brosnan
…it may not have been, but MGM made do with Swindon for key scenes in Brosnan's third outing as the super spy.

The futuristic Motorola factory at Groundwell was used as a double for a high tech oil pumping station. As well as a blink and miss it establishing shot of the building, the grounds were used for an action sequence for which local extras bravely volunteered to be wrapped up in body bags!

It was even reported that during his stay at the Chiseldon House Hotel, Bond enjoyed a pint of Arkell's 3B at the nearby Plough Inn. Advisors were at hand to stop Mr Brosnan shaking or stirring the local ale, which would have resulted in his instant barring and a stern clip round the ear.

Will Bond be back, or will it be a case of You Only Visit Twice? Watch this space.

Just imagine watching your favourite film with the volume turned down. Doesn't quite work, does it?

Sound is an integral part of movie making and the biggest name in cinema audio history has to be Dolby, whose international headquarters happen to be right here in Swindon.

These guys have had a hand in nearly all the great movies of modern times, from 'Star Wars' to 'The Incredibles', 'Gladiator' (Oscar winner for best sound) to 'Chicken Run', all of which wouldn't be the same without Dolby's unique 'Surround Sound' experience.
Notable directors such as George Lucas and Stephen Speilberg have all visited Swindon to see and hear their latest blockbusters in Dolby's private cinema.
5. Talk of the Town (1984)
Richard Burton's last film

Big Brother watched over Swindon in the mid-eighties, during filming of the classic adaptation of George Orwell's terrifying vision, Nineteen Eighty-Four, starring Richard Burton and John Hurt.

With key scenes being filmed nearby at RAF Hullavington, intrepid Swindonians were recruited as extras. Like lambs to the slaughter they were led to Old Town where they had their identities erased and their heads shaved at none other than local hairdressers Talk of the Town.

Sadly, none of the extras were available for interview, through fear of being intercepted by the Thought Police.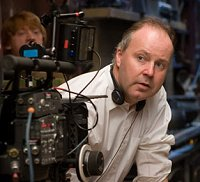 4-time
Harry Potter director
If Harry Potter won't come to Swindon, then let Swindon go to Harry, in the shape of our adopted son director David Yates.

Harry Potter director Yates owes much of his success to Swindon's Cre8 Studios, where he worked as a facilitator and where he gained much valuable experience.
David also made his first film in Swindon when he lived in Ferndale Road, Gorse Hill.
The 1988 film When I Was a Girl was shot in the town with a grant from Thamesdown Media Arts.

In 1998 David directed The Tichborne Claimant, a period romp starring John Gielgud and Stephen Fry. In the following years he lent his expertise to television, directing hard-hitting dramas including Sex Traffic and the sublime State of Play, which has now being adapted into a Hollywood movie.

Then came the surprising news that David had been signed to direct the Harry Potter 5, 6, 7 & 8! Films that have become some of the biggest grossing films of all time.
Twice a BAFTA Film Award winner, he received the Michael Balcon Award for Outstanding British Contribution to Cinema in 2011 for his work on the Harry Potter movies.
And yet not directly nominated, Harry Potter and the Deathly Hallows Part I was nominated twice for an Oscar in 2011 for Visual Effects and Art Direction.
Global stardom (if it hasn't already) and an Academy Award for Best Director surely beckons. Don't forget us David!
Although she's now best known on the small screen for travelling through time with Doctor Who and as Belle de Jour in the Secret Diary of a Call Girl, Swindon's Billie Piper's big break in Hollywood must surely be nigh.
Well, she did live there for a year when on her 3-year honeymoon with Chris Evans!

Billie has already flirted with the big screen twice, in Orlando Bloom boxing flop The Calcium Kid, Spirit Trap and in 2010, Animals United.
But after piping hot reviews for Doctor Who and a National TV Award to boot plus her critically-acclaimed roles as Belle de Jour and in a Passionate Woman, few would bet against seeing Billie Beverly Hills-bound in the not too distant future.
8. The War of the Worlds (2005)
Inspiration for Speilberg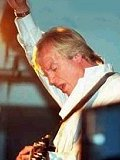 One of two musical connections comes from Dean Street-born former Commonweal student Justin Hayward.
The Moody Blues legend, who last played in Swindon for Children in Need at the Apartment, was a large inspiration to Steven Spielberg for his alien-bashing sci-fi hit War of the Worlds, starring Tom Cruise.
Hayward's stunning track Forever Autumn was not only his biggest solo hit, but also an integral part of Geoff Wayne's remarkable concept album War of the Worlds, which was reissued to coincide with Spielberg's hit film.
Johnny Depp as a Swindon Scoundrel

One outrageous - and controversial - turn from the brilliant Johnny Depp has its roots firmly linked to Swindon.

Depp played the 2nd Earl of Rochester John Wilmot in The Libertine, a film chronicling a notorious rake, poet, soldier and courtier of Charles II, famed for his debauched, hell-raising lifestyle and his lascivious writing.

John Wilmot was born in 1647 to Anne (played by Francesca Annis), daughter of Sir John St John of Lydiard. This makes Rochester a grandson of Swindon, whether we like him or not - and Depp warns us in a starkly comic opening monologue that we certainly will not!

A portrait of John Wilmot can be found in the dining room at Lydiard House along with other members of the St John family, who lived through the social and political upheavals of the English Civil War and Restoration period.


At last.... the closest we've come to an Oscar!
When you had the likes of music maestro Sir George Martin living on your doorstep, you're always in with a chance of some sort of major award.
And the former Beatles producer and multi-Grammy winning composer has come up trumps for us again with what we consider to be the closest Swindon has come to actually winning an Oscar.
Sir George was nominated in 1964 for Scoring of Music, Adaptation or Treatment for his work on A Hard Day's Night, but unfortunately lost out to Andre Previn for his score of My Fair Lady.
His notable film work also includes producing two of the most well-known James Bond themes, the first being "Goldfinger" by Shirley Bassey in 1964; the second "Live and Let Die" for the film of the same name. He also composed and produced the film's score alongside Paul McCartney.
Oscar Winner!
Swindon's Maisie Sly stars in Hollywood as her film scoops an Academy Award!....

05 March 2018

Harry Potter Night!
An evening of all things Hogwarts incl. fun quiz at Swindon Central Library - 27 FEB

An Album Ahead Of Its Time
50 years on from The Moody Blues' grounbreaking 'Days of Future Passed' written by Swindon Rock God Justin Hayward#madeinswindon

05 November 2017

Harry Potter
Happy anniversary Harry! Here's #Swindon's connection to the boy wizard 20 years on from the day Harry Potter and the Philosopher's Stone was first published...

Love. Peace. And Diana Dors!
Swindon's most famous actress honoured with heritage plaque at her birthplace in Kent Road, Old Town - PICTURES & FULL STORY

14 January 2017

RIP Sir George Martin
True music legend and friendly face in Highworth dies aged 90 - TRIBUTE

09 March 2016

Nineteen Eighty-Four
RICHARD BURTON'S LAST FILM: Swindon's connection to the movie of the George Orwell classic - 30 YEARS AGO THIS MONTH

Yield To The Night (15)
The film classic that made Diana Dors, the "Siren from Swindon", a star - SPECIAL SHOWING TONIGHT...

Justin Hayward
Happy 70th birthday to Swindon's rock God and Moody Blues legend...

Mamma Mia!
Back in the studio after 35 years! Here's Swindon's super-trouper connection to ABBA....

06 April 2004

Billie Piper
Swindon's pop star turned award-winning actress...