George Best
Originally written on 25 November 2005
In true Besty style, Swindon definitely enjoyed The Good, The Bad and The Bubbly...
Sounds a bit dramatic, doesn't it? George Best: The Swindon Connection.

Like our lovely Wiltshire town had some sort of clandestine effect on the career of arguably the world's greatest footballer. As if Swindon made a difference in the life and times of a soccer legend.

It's none of that.

It's that Swindon saw the very best - and the worst - of George Best during his life.
And given his passing we thought we'd add to the realms of Internet pages dedicated to the Belfast Boy by adding our ten pence worth about our experiences.

For 40 years, he both thrilled us on the pitch and, once or twice, frustrated us off it. But that was George. As he titled one of his many memoirs, Swindon definitely enjoyed The Good, The Bad and The Bubbly.

We really wouldn't be writing this piece if he'd been any other way.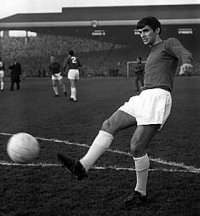 The Best was yet to come:
George Best
You could say George Best's career really started the night Manchester United beat Swindon Town.

As an 18-year-old apprentice, he came of age when the next bunch of Busby Babes defeated our boys 5-2 on aggregate to lift the FA Youth Cup on Thursday, 30 April 1964.

It was his first real trophy. And he always described the moment he received his medal as being 'extra special'.

"It was my first taste of silverware, and I liked it," he said. "I wanted to play my best for Manchester United even more after that."

Best even scored at the County Ground during the first leg on the Monday before (27 April). He shot low to beat Town keeper Tony Hicks on 70 minutes. It ended 1-1.

Swindon's scorer that night was our answer to Best, Don Rogers. He remembers the match quite vividly. "I fired home past Jimmy Rimmer on about the half-hour," he told us.

"We were just thrilled to be in the final. But for a while we thought we could win it. Then Best turned on the skill.

"He had everything: ball control, courage and intelligence. He was the complete player even at eighteen."

Town then succumbed 4-1 in the second-leg at Old Trafford, with Best flying in from Northern Ireland to play after appearing for his country the previous night - his fourth match in six days [one Divison One game for the first team, a two-legged final for the Youths and an International]. Imagine Rooney doing that when he was a teenager?

It was the start of something special for Manchester United. Seven of the '64 Youth team went onto win the League in 1965 and 1967, and lift European Cup in 1968.
Equally inspired, Town also went onto enjoy a golden period - if slightly less glamorous; the 1969 League Cup win with Rogers scoring the winner being the highlight.
Heather Hewlett Fundraiser 1982
George Best's last playing appearance in Swindon earned him the then princely sum of £300.

That was the amount the Evening Advertiser stumped up to secure the services of the former European Footballer of the Year at a special game in aid of Heather Hewlett, the widow of speedway rider Martin Hewlett, who had died early that year.

It was an all-star game that not only included some of footies' best-known names (Channon, Rogers and Summerbee) but also other sporting celebrities such as cricket's Viv Richards and Swindon's own champion jockey, John Francome.

Best's show helped boost the attendance to over 7,000, and contributed in swelling the charities coffers by over £5,000.
The 36-year-old Best even ended up on the winning side, triumphing 12-9! He scored five.
Questions and Answers at The Wyvern 1992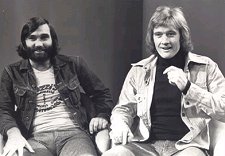 On stage:


George Best & Rodney Marsh
When George Best arrived in Swindon in November 1992, his playing career was well and truly at an end.

He hadn't played since turning out for lowly Bournemouth AFC in 1983, and it was the theatre and after-dinner circuit that was paying the bills (or tax demands, depending on whether the Inland Revenue were in touch or not).

He had formed a formidable partnership with former team-mate Rodney Marsh (see Bad - FA Cup 1977, below) and they had sold out venues across the country with their question and answer show 'An Evening with Best and Marsh'.

It was two hours of brilliant entertainment. Best at his charming best; and Marsh contributing with equal verve in what one person who attended described as 'a dream night for any football fan'.

Both amusingly recounted their halycon days at Fulham in the 70s, and at Manchester United and City during the swinging sixties.

Never to finish a good night at 10.30pm, Best and Marsh then continued their comedic partnership in the bar at the Thistle Hotel afterwards as well, signing autographs and enjoying a drink with fans like Swindon was their home town.
By all accounts they finally called it a night at 4am. Vintage Best.
Premiership Forum 1994
As part of Sky Sports coverage of the Premership in 1993/94, the TV channel held an 'Experts Forum' at the venue of their Monday night 'Live' game.

And on 4 April 1994, the one-and-only George Best was a guest panellist at the County Ground alongside our very own Don Rogers.

Both reported on another disappointing defeat for Swindon, who lost 1-0 to Sheffield Wednesday in front of 13,927 fans.

Diplomatically, Best did try to put a positive shine on the Robins performance, but even he couldn't hide the fact that Town were staring relegation in the face - and leaking too many goals.

It was such a dismal game that it could have driven anyone to drink. Not George. He surprisingly looked sober all night.

FA Cup Thrashing 1977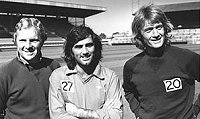 Fulham fall-guys:
Bobby Moore, George Best
and Rodney Marsh
This was almost Swindon Town versus the Harlem Globetrotters. An FA Cup mis-match if ever there was one.

Swindon had John Trollope, Ray McHale and errr... no one else we can remember. Fulham had George Best, Rodney Marsh and England's World Cup winning captain Bobby Moore.
Except, these footballing legends hadn't managed to see off our boys in the first match. It had ended 3-3 at Craven Cottage on a chilly 8 January 1977. Moore and Best so confident of victory they'd been out 'til 5am the night before.
Three days later, though, Fulham's long-toothed galacticos got the thrashing of their lives - 5-0 in the replay!

Town ran riot. Best, Marsh and Moore didn't run at all.

Whether they had been on another of their famous King's Road pre-match warm ups, no one knows, but while Town fans celebrated, the three amigos trudged off never to feature in the FA Cup again.
In a sad bit of symmetry, Best had started his career with an historic Youth Team win over Town in 1964; and he ended it here with a performance that was so off-key some Town fans can't even remember him playing.
De Vere No Show 1996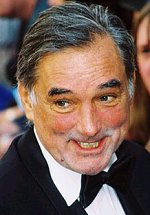 Gone AWOL:
George Best
Over two hundred guests had paid £50 to hear him tell humourous tales of scoring both on and off the pitch.

All had dressed up in their best bib and tucker especially.

George Best, footballing icon, was the star guest at a special Sportsmans' Dinner at the De Vere Hotel, Swindon, in Spring 1996.

Even his manager had calmed organisor's nerves by confirming that she had bid farewell to her sober client at Paddington Station at 6pm.

Except he never arrived.

What he found on the 125-Intercity train to Swindon that distracted him no one will ever know. The usual suspects Johnny Walker and Jack Daniels were the hot favourites, though. Strong rumours of a beauty pageant taking place in Swansea were also blamed.

At 10.30pm, with George un-contactable, the miserable decision was finally made to announce that the main attraction wasn't coming. "Unforseen circumstances" was given as the official reason for Best's no-show.

He didn't even call to apologise.
The evening was partially saved by free drinks at the bar and a quick routine by a comedian. He even quipped that George had been delayed launching a ship - but that the vessel had gone seven miles out to sea by the time they got the bottle of champagne out of Besties' hand!
The Bubbly
Mike Summerbee - the 1960s
George Best's glorious heyday was surely the 1960s.

Christened 'El Beatle' by the Press, he lived a supertstar lifestyle where he somehow managed to fit booze, birds and boutiques in between scoring magical goals for Manchester United. He well and truly lived the playboy dream.

And his partner in 'crime' during these heady times? None other than former Swindon Town legend Mike Summerbee.
After playing over 200 games for the Robins and becoming a firm fans' favourite at the County Ground for six years from 1959, Summerbee swapped the quiet life of Swindon for the bright lights of Manchester City in 1965.

Best buddy:


Mike Summerbee
And then he met George Best.

Immediately they became the best of friends, and almost inseperable in their quest to sample everything Manchester's nightlife had to offer.
In 1966, they opened a boutique together called Edwardia as they enjoyed the bachelor lifestyle to the full.

"We were both single and basically had the time of our lives," Summerbee said.

George even helped Mike meet his wife, when he introduced the pair at a nightclub in Manchester.
The partying only ending in 1969, when Summerbee married. George was, of course, the best man.
And there you go.
Swindon's loose connection with the mercurial talent that was George Best.

We'd liked to have included that he had a dalliance with a former Miss Thamesdown, but we couldn't contact any of them to ask.

That really would have completed the set.
George Best: 22 May 1946 – 25 November 2005
And just in case anyone has forgotten just how good George was...
Diego Maradona
Swindon's connection to the mercurial football artist.
WARNING: CONTAINS WORDS & RECOLLECTIONS SOME TOWN FANS MAY FIND DISTRESSING

Swindon Legendas!
Hat-trick for Di Canio as Swindon old-boys & showbiz game raises £16,000 for Air Ambulance...

03 May 2012

Brian Clough
10 YEARS ON: "Now look here, young man" - Swindon Town's connection to old big 'ed...