Date added: 06 April 2004
Mamma Mia!
Swindon's super-trouper connection to ABBA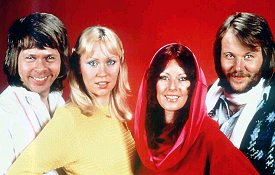 Took a chance on Swindon:

ABBA
They've sold over one hundred million records, had nine UK number one singles and are known the world over as one of the best pop acts ever to grace the stage.
They are, of course,
A
gnetha,
B
enny,
B
jörn &
A
nni-Frid - better known as ABBA.
The fabulous foursome that recorded hits such as 'Dancing Queen', 'Voulez, Voulez' and 'Money, Money, Money' - and whose music is now reaching a whole new audience with the phenomenally successful stage play and film 'Mamma Mia!'
A rise to fame that - in no small way - was helped by a small office in Highworth, Swindon.
A place that, indeed, did its bit to put this Swedish supergroup on the music map.

Because that was the sleepy location of the official ABBA fan club during the band's heyday from 1975 - 1981, and whose address appeared on many of ABBA's mega-selling singles and albums.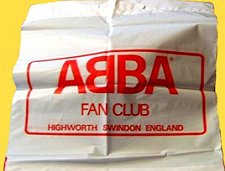 Highworth Historical Society
Run by a local lady known to thousands of ABBA fans simply as 'Sue', the office in Sheep Street, just off the Market Square, was ABBA central for thousands of pop enthusiasts for over six years.
Only when the band split up in the early 80s did the mail bags - on some days containing up to a thousand letters - stop arriving at Highworth Post Office for delivery just a couple doors up the road.

"I was asked to take it on by ABBA's UK manager and it was terrific fun," 'Sue' told us when we contacted her.

"It started with just a few letters a day after Eurovision, but by the mid-70s when ABBA became really famous we became unindated with letters and parcels - and some very unusual requests!
"Although I initially did it part-time, it soon became a full-blown job with a team of people sorting the mail, organising autographs and producing an ABBA newsletter," Sue added.

As the ABBA bandwagon gained momentum, Sue's organisational skills were further recognised when the group arrived in Britain to play the UK legs of their sell-out world tour in 1979.

"The Albert Hall event was one of the biggest of the tour and I spent a lot of time in London with the group making sure everything went to plan," she continued.

"Given that they were internationally famous, I always found them extremely friendly and very appreciative of the fan club and our help during the UK concerts," Sue added.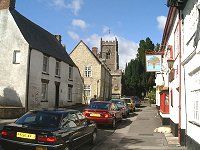 Now, of course, ABBA are popular once again thanks to the enormous success of
'Mamma, Mia!'
the musical - and now film - co-written by the group's leading men.
And rumours persist that maybe one day Agnetha, Benny, Björn & Anni-Frid's will renunite to play together just one more time.

But whatever the eventual outcome of any 'reunion' may be and despite the ongoing appeal of the Scandinavian quartet, Sue won't be entertaining any thoughts of taking on the fan club again.

"I remember playing my part in the ABBA phenomena very fondly, and I was very sad when they split up," she told us, "but whether they get back together or not, I'm more than happy just listening to their records from time to time.

"I'm still getting over the fact that it was thirty years ago!" she concluded.
Added to SwindonWeb in April 2004 to mark the 30th anniversary of Abba's Eurovision winning performance of Waterloo.
Two Big Fat Mentions!
Primetime Swindon: first the BRITS then My Big Fat Gypsy Wedding...

16 February 2011